Who doesn't love some nice jewelry for cheap prices? Everybody loves bling right? There's a certain level of class and style the owner of a particularly spectacular collection of jewelry has. For thousands of years jewels have been known to present a significant status for people, usually those who were royal and wealthy. Nowadays there are endless options and selections of gorgeous jewelry that successfully mimics the finest, like gold, diamonds and jewels. No longer is there a need to be uber rich in order to achieve the look you desire. We have the option of wearing expensive looking jewelry for frugal prices!
Diamonds Are A Girl's Best Friend
Remember when we were little and loved to raid our mothers jewelry box (along with her closet and makeup collection? Good times. Good times.) We piled on the pearls and the necklaces. We practically drowned both arms in bracelets and bangles. We begged our moms to pierce our ears so we could wear those pretty dangling hoops or diamond earrings that looked like chandeliers. There's always been something about jewelry and sparkly, shiny things that excite us and inspire us to explore our style and experiment with our look.
As a girl that definitely appreciates fine jewelry from the iconic pieces of Cartier to other gorgeous and trendy pieces of designers such as Dior and Tiffany and Co., I can certainly admit that it would take quite a while to save up for every pair of diamond studs I laid my eyes on from those brands.
What's In My Collection
I'm always on the hunt for nice jewelry for cheap prices. I'll be sharing my best pieces of my current jewelry collection and where I found them. I'm a huge fan of diamonds and gold, so naturally I will gravitate towards affordable pieces that replicate the real deal (that is until I can afford the real deal!)
Note: Some people may be allergic to the metals of costume jewelry so I have a hack that will allow you to rock those gorgeous gold hoops you spotted at Target without risk of a possible allergic reaction that I'll share at the end!
Rings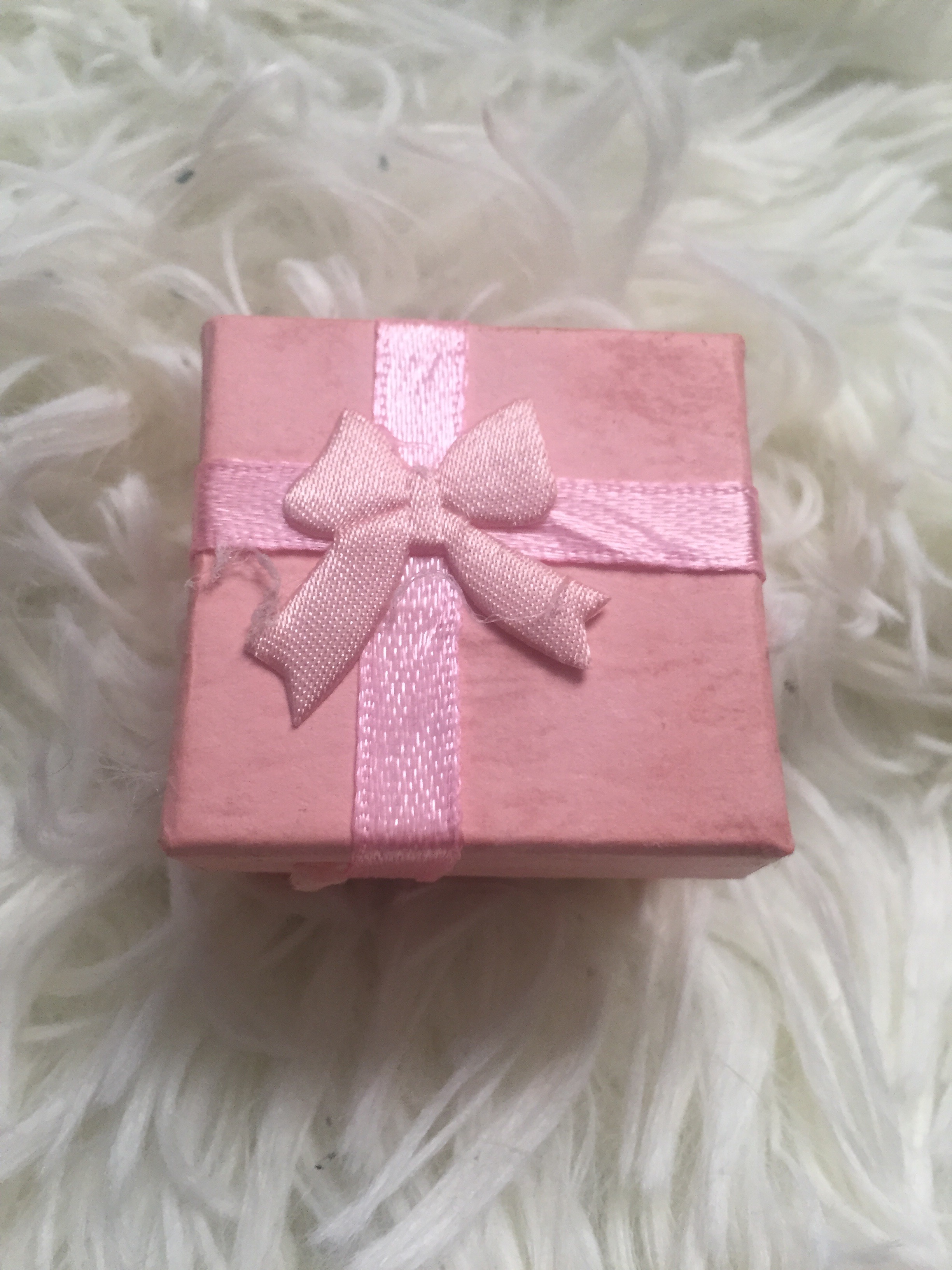 What's to be revealed inside this adorable little box you ask? It's definitely quite the showstopper! I have to say that for the price I paid for this little number I am blown away at its craftsmanship, design and resilience to any form of wear or tarnish.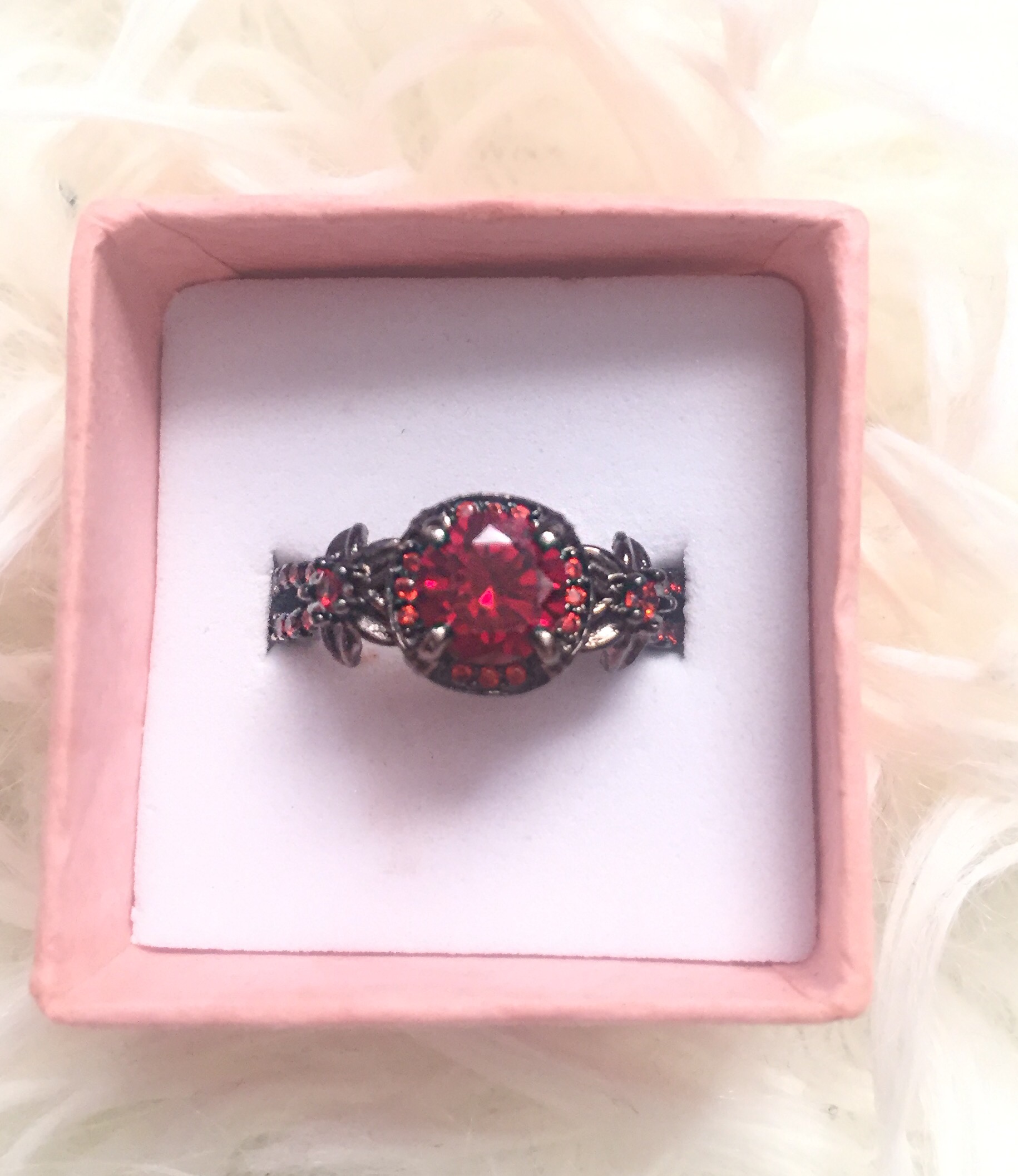 It is a STUNNING red ruby ring! I've had it for months now and I've experienced absolutely NO tarnishing, NO allergic reactions, NO dullness and NO loss of any pieces of crystal.
Now guess how much I paid for it.
Nope.
Nope.
Guess again.
One last try…
Ok, since you couldn't guess the right amount it was I'lol go ahead and spill the beans: it was only $21.99!!!
Plus, shipping was 100% FREE!
(Insert God is real gif)
I was scrolling on tumblr and came across a post advertising this very ring. The store it came from was this Chinese based online boutique of fashion accessories. I believe it was called ess6fashion.com. The selection of unique accessories they have on there is incredible, I'm telling you!
Anyway, I am thoroughly impressed with this piece. The quality is quadruple the price and it's such a mysterious looking yet interesting and unique piece. I love to wear it when I'm feeling edgy. While you may not be able to convince the pawn shop guy to buy it for thousands, you sure can convince the average nor on the street that you just might be carrying a few more bucks in the bank than you do.
Well, that's really the only ring in my collection right now. I didn't get into rings until my late teens, so now I'm more interested in beginning a mini collection.
Necklaces
It's the cutest little heart pendant necklace I got from the U.K. based online fashion outlet Boohoo.com. It was on sale for $8! Yes I said $8!
It may not look as exciting as the ring did, but I'm sure you'll be impressed when I tell you that the gold has not tarnished one bit since I received it in September last year! How many $8 necklaces have you bought that didn't either turn super tarnished and dull within a few weeks, or made your skin turn green? Exactly.
Boohoo has other cute little cheap accessories too. I like browsing around on there from time to time.
Earrings
I've loved earrings since I was a very little kid. I got my ears pierced when I was about 6 and since then I always made sure to keep a pair on, even in my sleep.
Hoops have always been my favorite.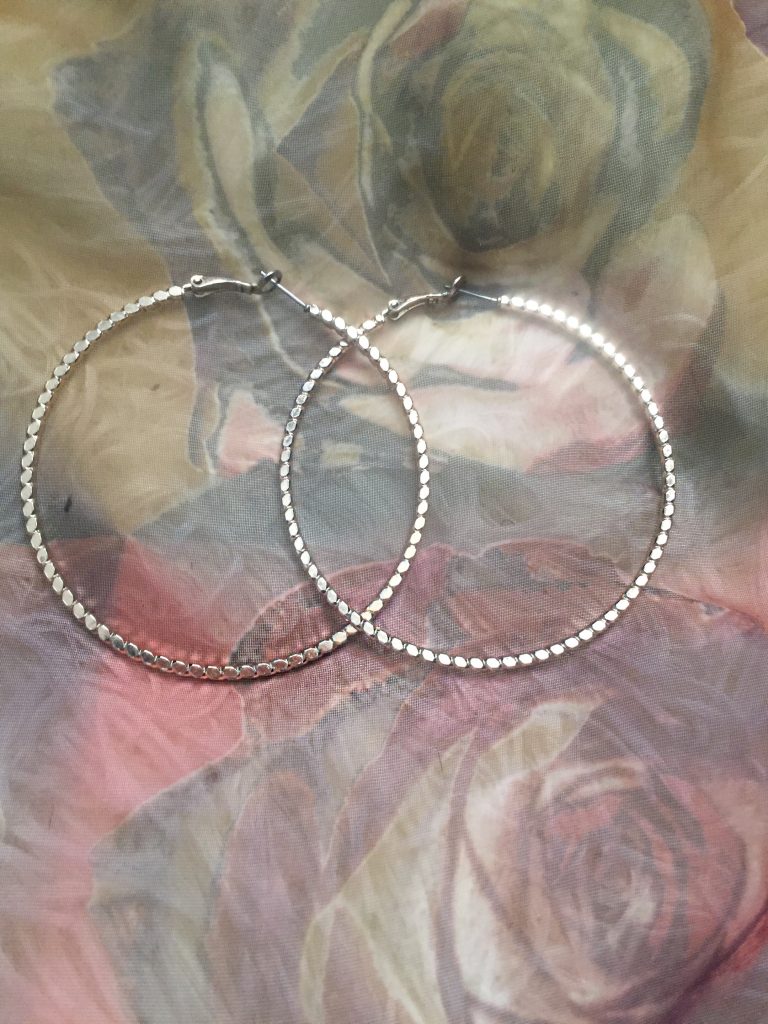 These are some gorgeous large gold hoop earrings I found for a bargain price at H&M! They were marked down from $12.99 to $7.99! These hoops have omega back clasps. I get hoops that have omega-back clasps because that means they won't fall out of my ears. They look so cute when I wear a pretty long haired wig or my natural hair in a big curly Afro. I have worn these basically every day since I got them. Again, no tarnishing, although they're a bit dull since I first got them. That's nothing a little vinegar and baking soda can't fix (total DIY for Dummies!)
Next pair of earrings are these right here: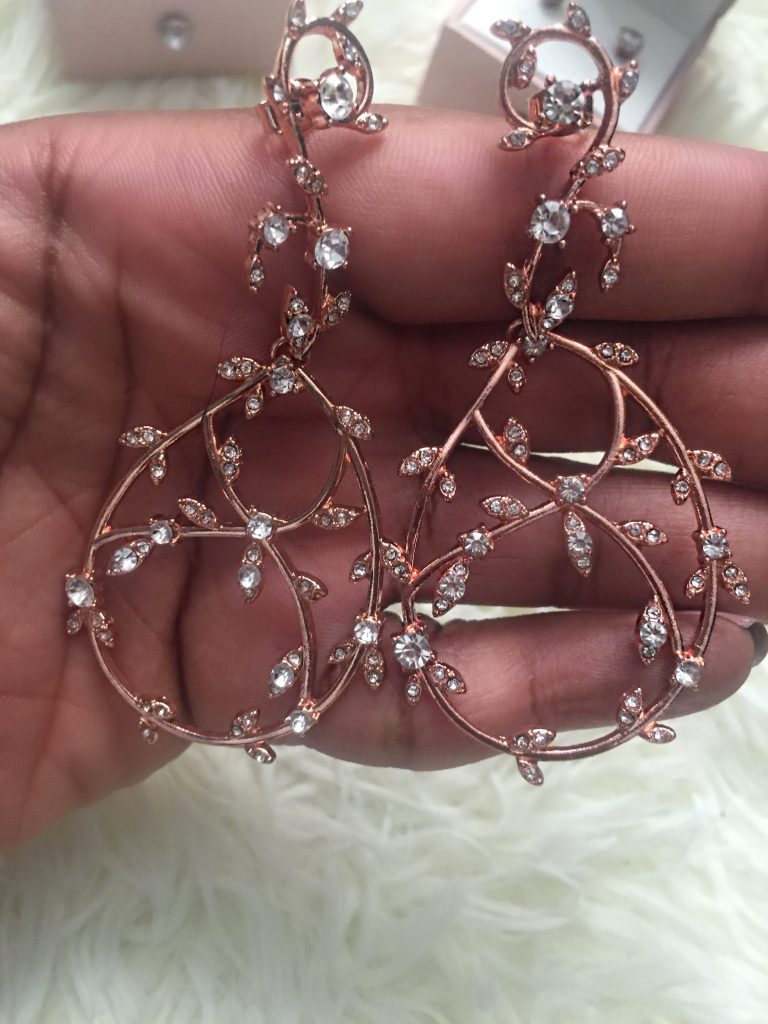 They are gorgeous rose gold dangle earrings decorated with diamond like cubic zirconias! They were another steal from H&M. Found them on sale for an unbeatable $3! I thought the design combined with the gorgeous rose gold color and sparkle of the zirconias was too much to pass up, not to mention that insane price tag! These are the cutest when I wear these with my hair pulled up in a puffball or two. It's better to wear these when your hair is out of your face so they may be seen better and will compliment your features. These earrings scream girly, dainty and fun!
These earrings right here definitely wowed me: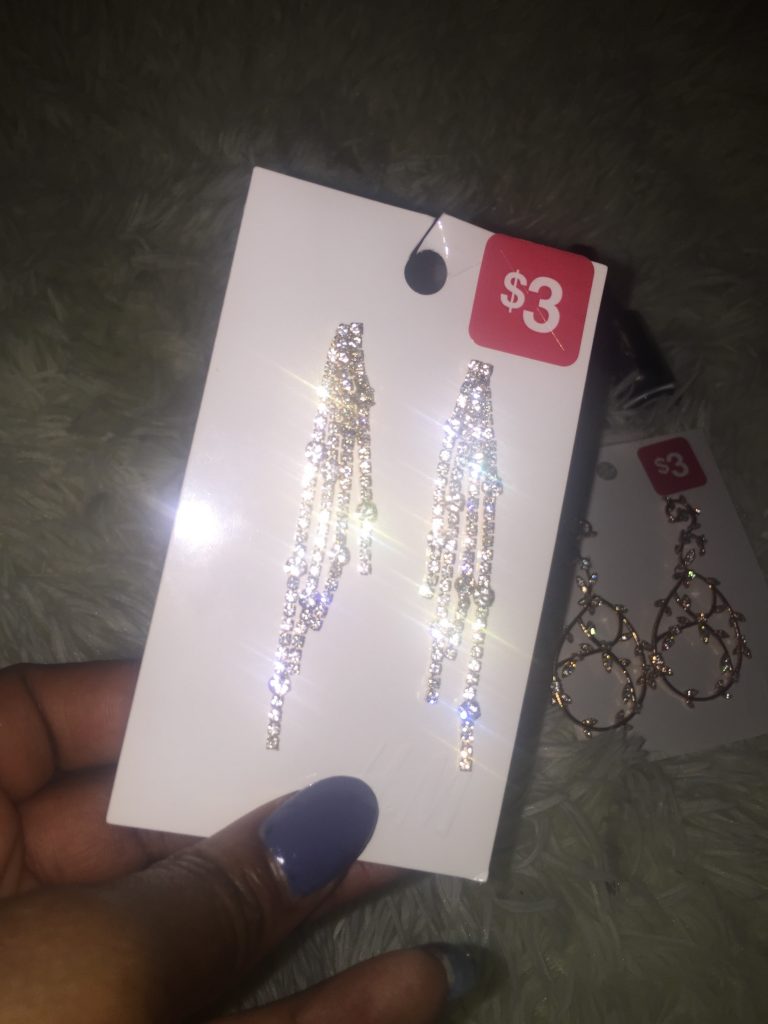 They look like mini crystal chandeliers and I snatched them up so fast! The sparkle and shine is astounding! I'm telling you, the bling of these babies in person is blinding! They were on sale too for an unbeatable $3! You've really got to check out H&Ms accessories if you haven't already. So many deals and steals to go around!
These will look so elegant and classy worn during an event, a night out, a dinner, anywhere fancy or live. They'll look so much better on you when you wear them with your hair pulled up or pulled back.
Last on this list are the pieces I'm most proud of right now.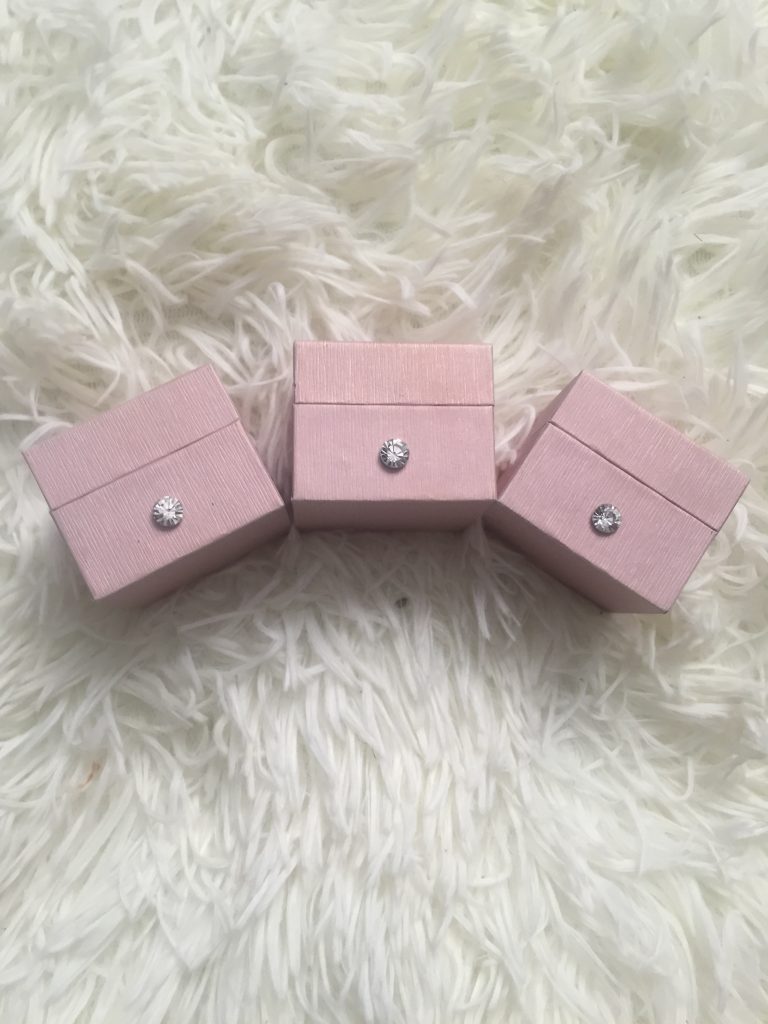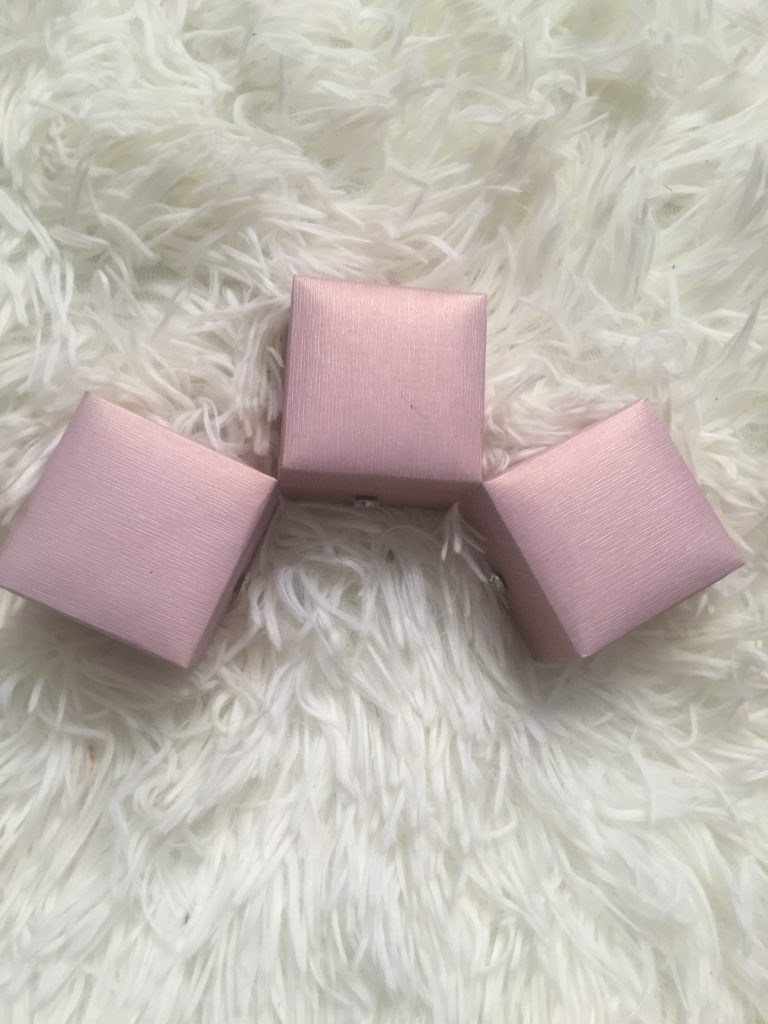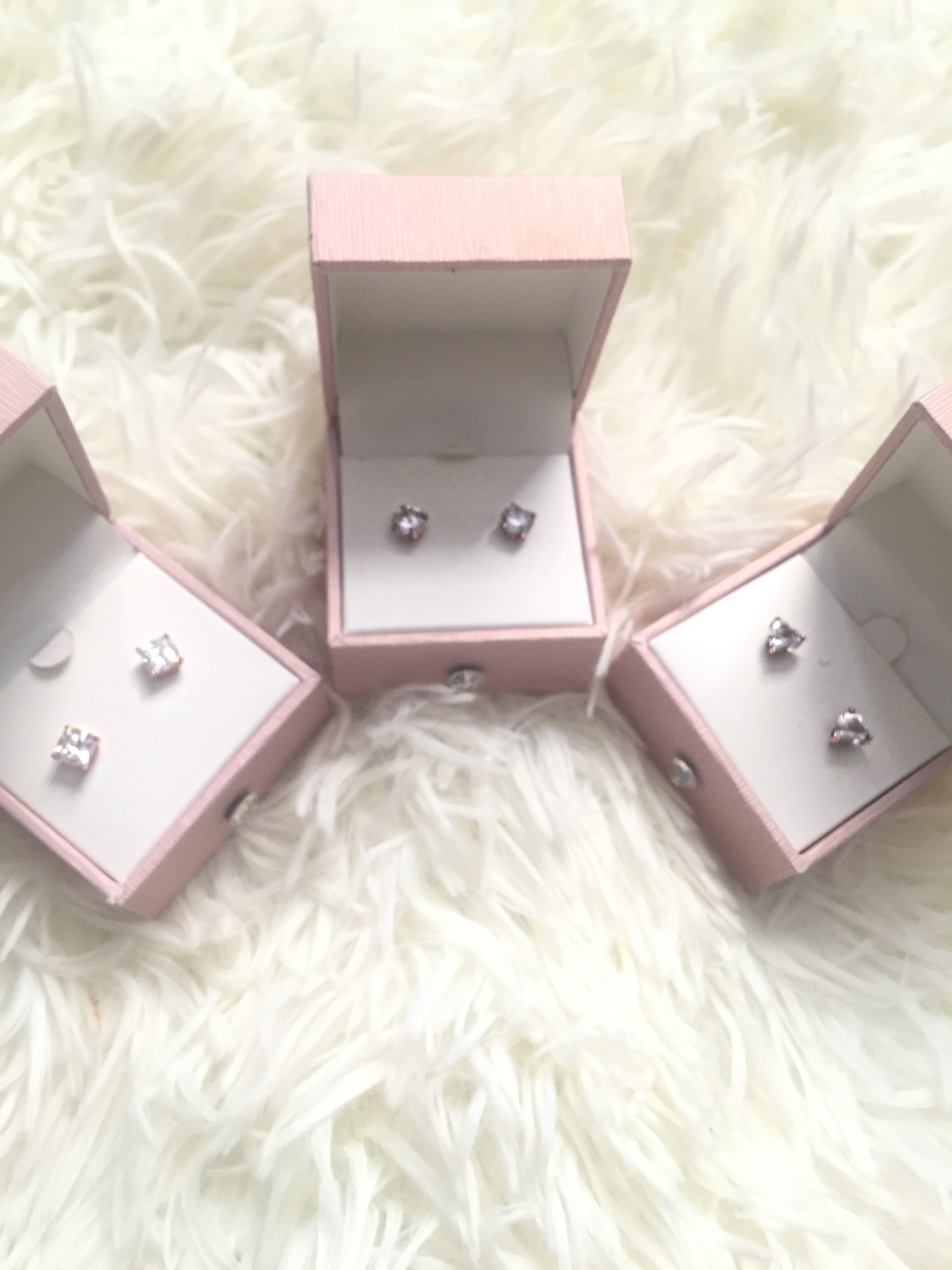 I got a set of the most beautiful imitation diamond earrings I've ever had! They were having a deal on QVC, where my mom and I love to shop for inexpensive quality jewelry. They were advertising Diamonique jewelry, which is basically the closest to real diamonds you can find but they aren't! I copped these for around $50. Not $50 each, but $50 for all three pairs!
They're gorgeous studs with a rose gold color in three unique shapes: square, circle, and heart (my favorite!)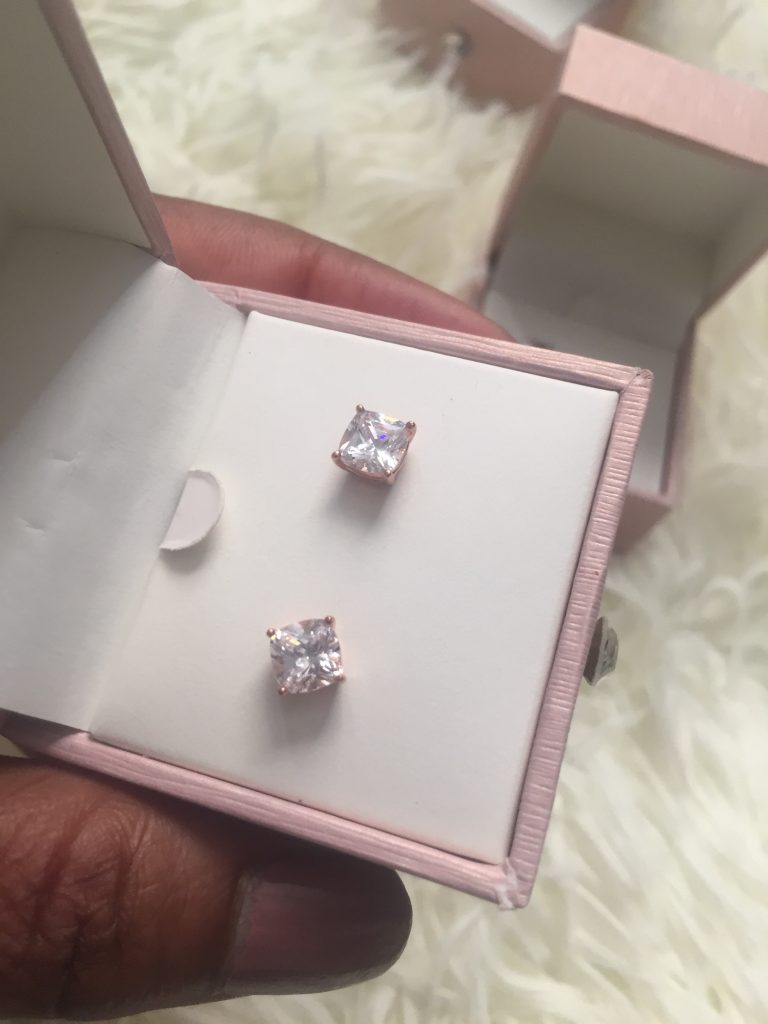 I find the intense sparkle and shine of these earrings the most impressive. Then again, that's to be expected for Diamonique earrings. The quality, craftsmanship, and finish is unbeatable especially for the price I paid! They look like they cost thousands especially in person. I recommend Diamonique for very nice jewelry at cheap prices. You can always find great deals and bargains with them!
Here's A Hack!
For those of you with sensitive skin that like to wear costume jewelry but find that the metals break you out, coat any metal that will make contact with your skin with clear nail polish. It acts as a barrier between your skin and the metal, so you should no longer have to worry about any irritation. I used to do it with my glasses frames and the backs of studs, and it works like a charm!
Hope you enjoyed my affordable jewelry collection!
Where have you gotten some of your favorite jewelry from? Who are your favorite brands? I'd love to chat in the comments!
Make sure to subscribe on your way out and share if you <3 it!