Summer Festival Fashion LookBook
This post may contain affiliate links. This means that I may earn commissions from the companies mentioned in this post. As an Amazon Associate I earn commissions from qualifying purchases made through Amazon links included in some posts.
Note: SOME affiliate links are used. See my FTC Blogger Disclosure for more details.
So half of the year is already gone (😳😳😳) and we are fastly approaching the first day of summer! I'm a lover of every season and summer is an extra fun time of year, especially when it comes to the fashion. Bows the time to get our tan on, show a little extra skin, eat all the ice cream and enjoy daylight until 9pm! Summer also means plenty of hot parties, concerts, and music festivals!
I've been a fan of the cute music festival, boho chic spring/summer vibes trends in fashion since it got huge last year. I can originally thank H&M for that! Although I have never been to Coachella (as I live on the east coast and have no friends that will come with me…lol) I still admire the gorgeous outfits of the women who attend. I could scroll through Instagram, Tumblr, and Bloglovin for hours just adoring these girls' amazing fashion sense! It also helps give me inspo for my own little summertime looks.
What's Hot Now?
A trend that really gets circulating during this time of year are bralette so! I've always found braletes so adorable and cute for the spring and summer months! Although they show quite a bit of skin they still manage to be really classy, sweet and stylish without being vulgar or overtly sexual. They have that vibe of being sexy yet still flirty and fun.
My favorite kind of bralettes are the lace ones, and I'm so glad that one of my favorite lingerie sites AdoreMe has PLENTY of them. I scroll through the app on my phone so many times out of the week just checking out all the cute things they have! What drew me to them the most is that they actually have a plus sized section! They have stuff from clothes, lingerie, sleep wear, you name it! And they've got plus sized bralettes which is right up my alley! If you haven't already checked them out before, check them out here!
By the way, I think we can agree that for us more well endowed ladies, we'd really appreciate more bralette options because we couldn't possibly get enough!
A Few Looks For Summer
I did a little summer clothes shopping because, well, I needed too! And I found some of the cutest pieces from a variety of places since I'm a bargain shopper and I need to find good deals all the time! I'm very excited to showcase the cutest outfits I've come up with so far!
Classic Jeans and a Tee
I'm definitely a t shirt and jeans kind of woman. I've been that way since my tween days. Usually this kind of getup is very chill for most people, so when we think of Jeans and a tshirt we think of maybe an oversized t shirt with baggy pants and old beat up Converse. Or we just think of a regular t shirt with run in the mill blue jeans and sneakers. However who says this classic can't be dressed up as a stylish ensemble?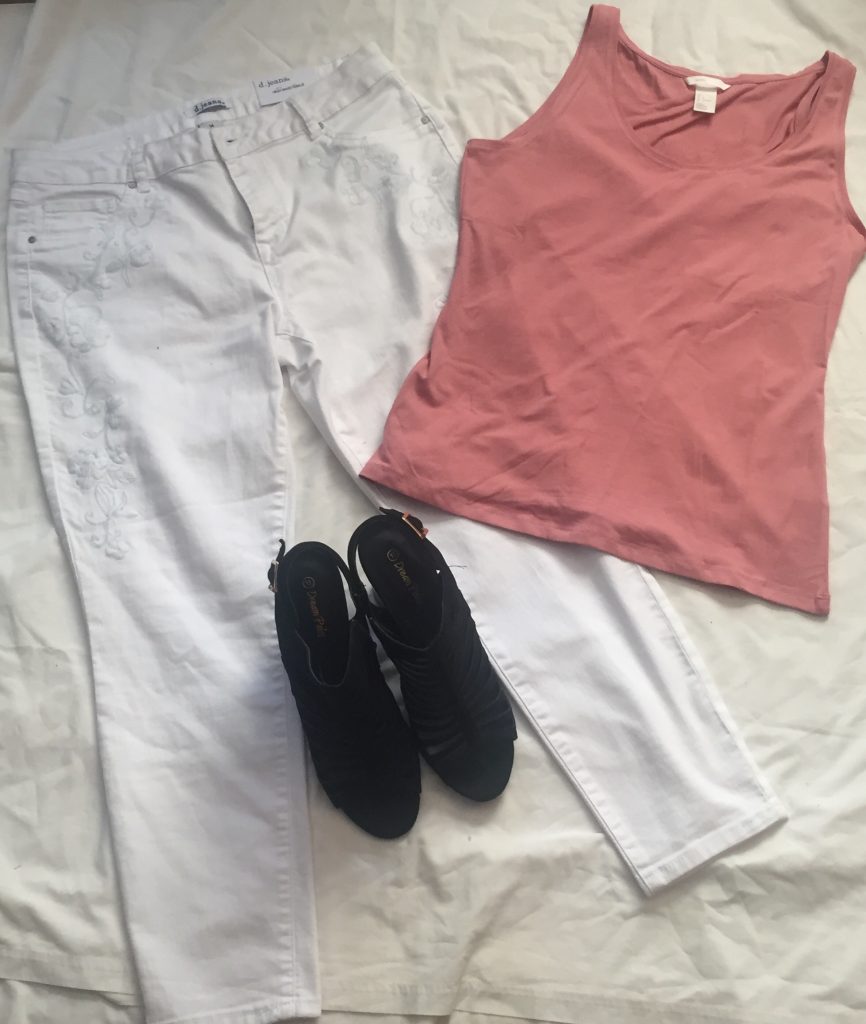 I paired a peach colored basic tee from H&M with these beautiful white jeans I got on sale at TJMAXX. The jeans have these pretty flower light blue patches on the thighs which I thought was too cute! Plus they fit my curves perfectly so I had to get them! Usually I see others pair a white tee with some blue jeans but I wanted to switch things up a bit. The white jeans are not only a great choice for the season but the peach colored tee flatters my skin tone and adds an unexpected pop of color to the mix. Dressing up the outfit with some sexy black sandals i got from Amazon takes it that extra step up from "eh" to "WOW"! I'll be wearing this look quite often.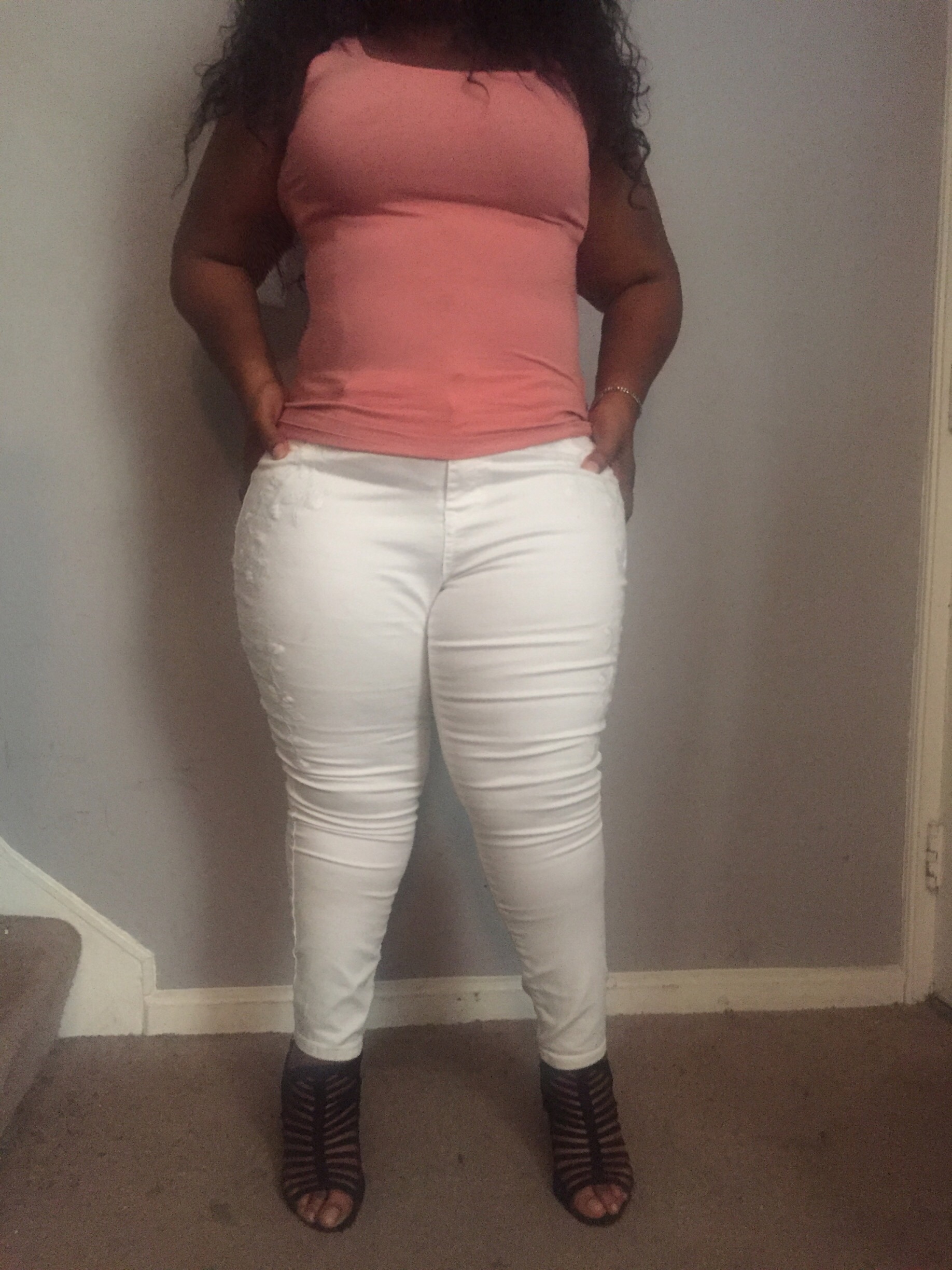 You could go bold and replace the tee with a cute bralette, like this one here
The Perfect Festival Getup
Do you ever see anyone at a music festival that's NOT wearing a crop top with a pair of sorts and a kimono? Yeah we definitely do, EVERY TIME! LOL! But that doesn't make this outfit basic (although it truly is.) it's basic in a good way: basic and cute, and won't cause you to burn up in the heat as long as you put on that sunscreen! Seriously, there are people out here that actually forget to apply sunscreen! This is an emergency public service announcement people: PUT ON THAT DAMN SUNSCREEN!
Anywayzzz, here's my personal outfit I'd wear to a summer party or festival:
I've got a basic tee again from H&M with some black shorts also from H&M, a blue mandalay patterned kimono I got from Amazon and an old faithful pair of Chuck Taylors. The T Shirt is thin, flowy and is a great summer hot pink color. The shorts are made of a cool cotton material and are the perfect length, just short enough without being offensive. The kimono is just a cool and cute addition to the look. We all know converse are super comfortable shoes and they're great for adding a chilled vibe to your look. It's also smart since you're most likely going to be doing LOTS of walking around in these.
It's so important to match up and experiment with different colors and patterns during this season. Solid colors paired with louder or brighter colors and  patterns are a must do for a summer ensemble.
The Bralette
The bralette is basically indication that it is indeed summer time!  I got this bralette from Amazon. it totally reminds me of this cute little number from AdoreMe. I would usually pair this with some denim shorts and some sneakers or sandals. I decided to go with my high top Adidas. I thought the gold added a nice pop of color.
If you're a bit more conservative like me, it's a great idea to add on a nice button up shirt (Or is it called a button down…. oh well).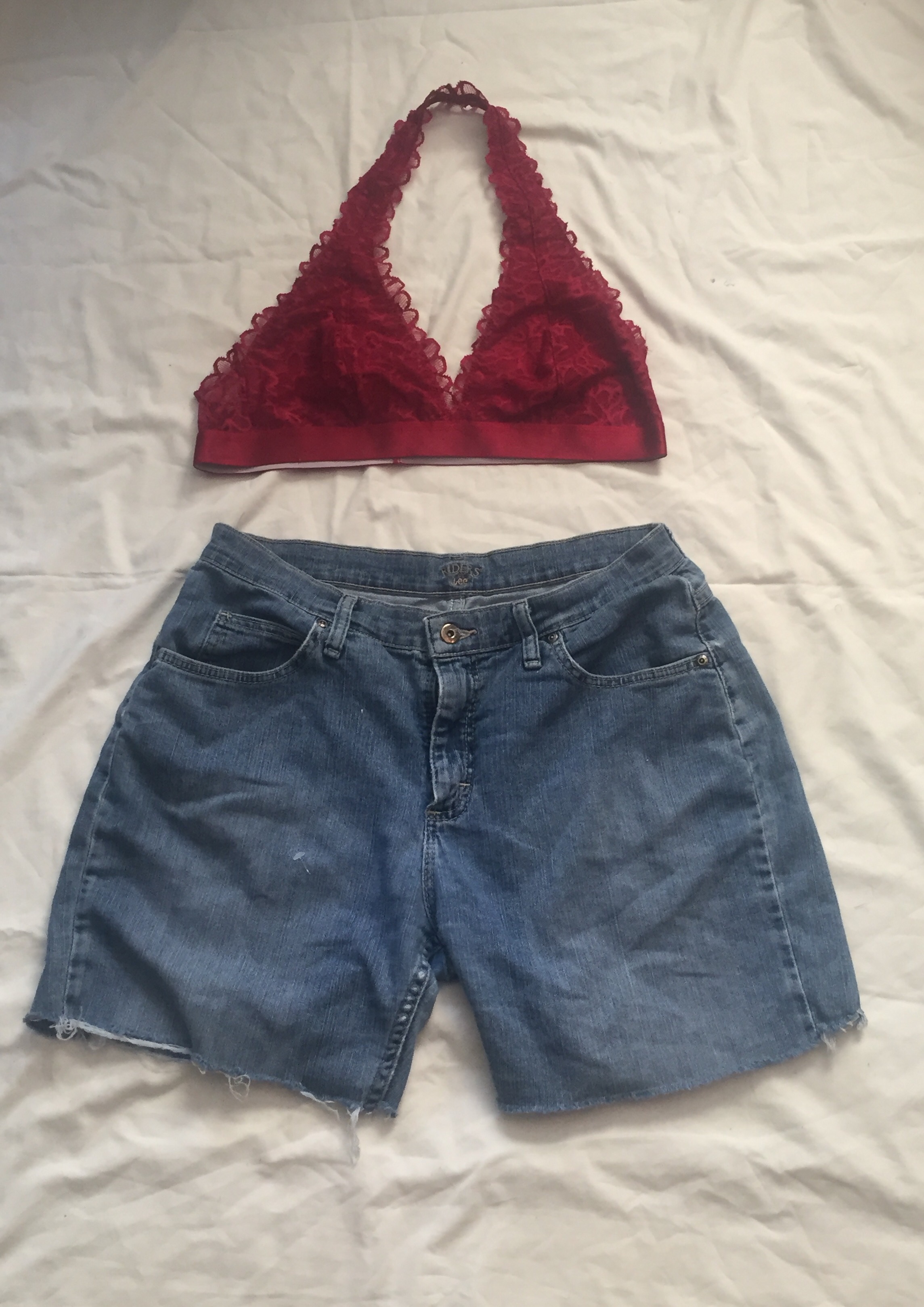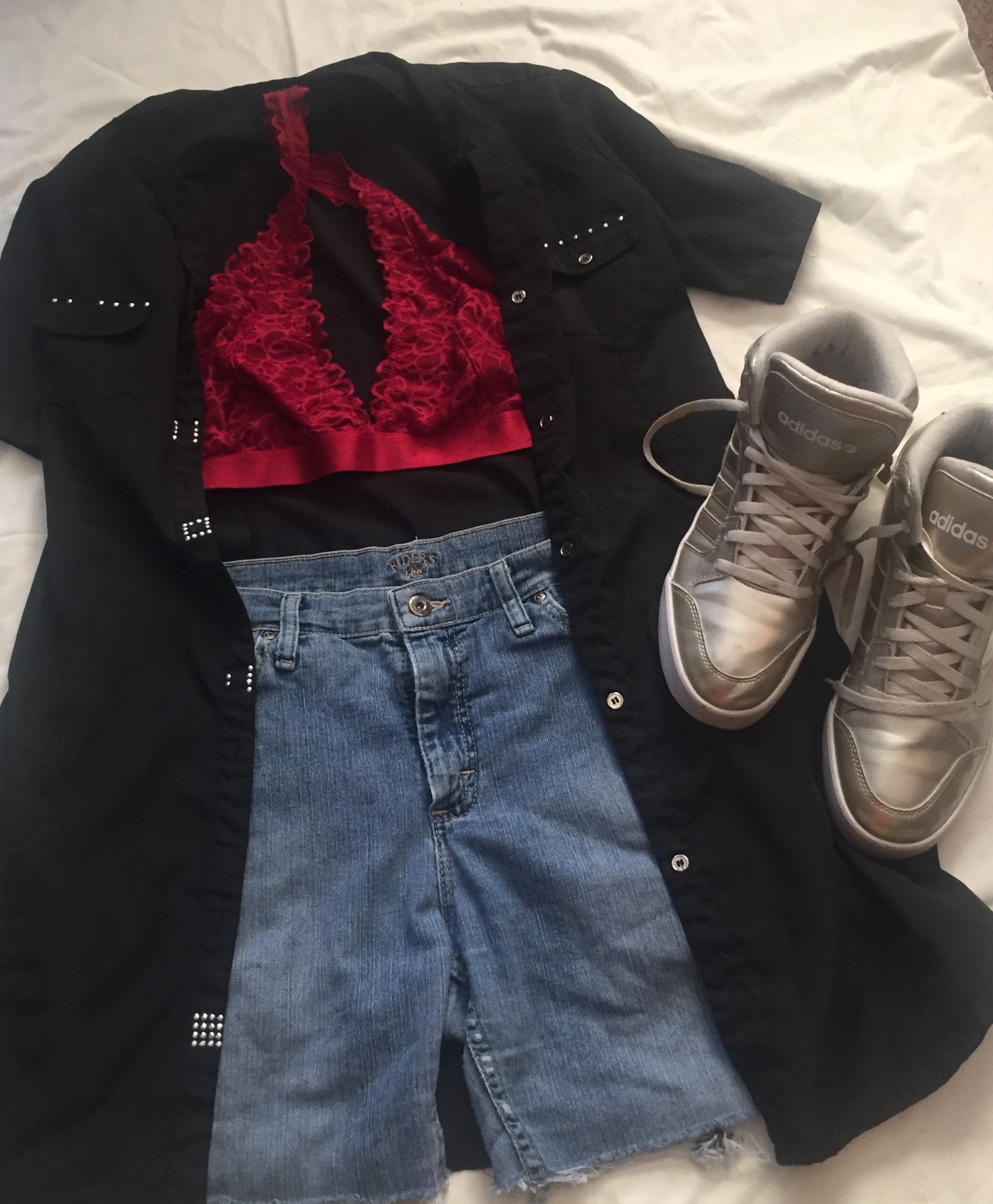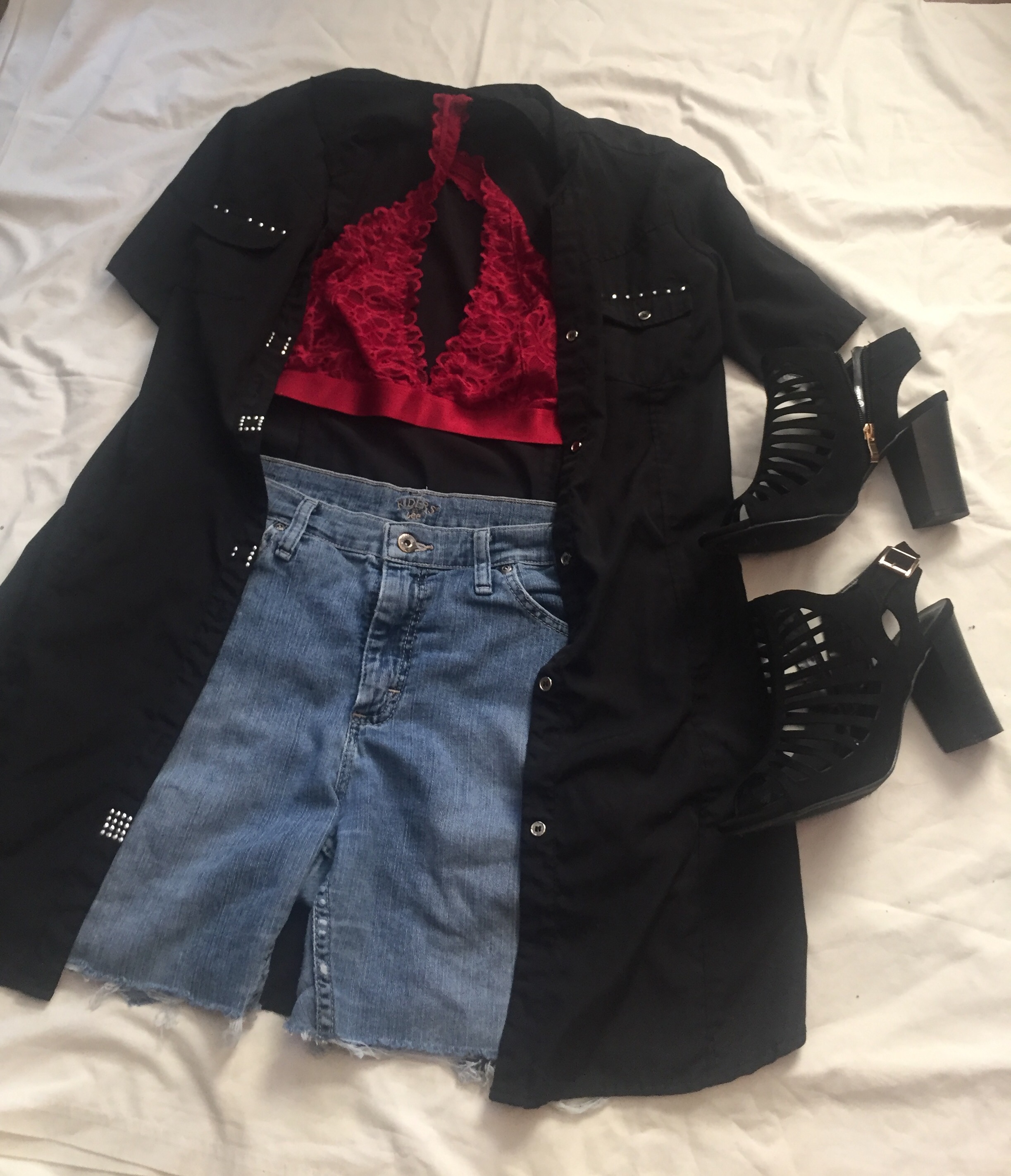 I would've tried this outfit on, but sadly I've outgrown both the shirt AND the bralette. Having big boobs is pretty overrated sometimes…
Perhaps I'll replace it with this bralette. Hopefully I don't grow out of this one too.
That wraps up my Summer Festival Fashion LookBook! I hope you all enjoyed what I put together and have gained some style inspiration. Pretty please tell me what's your favorite outfit in the comments! I love feedback and making conversation.
Do you subscribe to or have ever bought anything from AdoreMe? What's the best thing you've gotten from them or a list your favorite pieces? I wanna check them out myself!
Make sure to subscribe if you haven't already to keep up to date with what's happening over here at Rose Gold Pearls, check out my Instagram and Pinterest to keep up with me, and share this post if you ❤️ it!
*This post was in collaboration with AdoreMe.