The Best Curl Defining Natural Hair Products for Type 3c/4a Hair
This post may contain affiliate links. This means that I may earn commissions from the companies mentioned in this post. As an Amazon Associate I earn commissions from qualifying purchases made through Amazon links included in some posts.
When your hair is natural, it can feel like a workout trying to find the perfect products. I know that when I first started really committing to healthy natural hair care, it was a constant struggle trying to figure out what my hair loved the most. I grew up on a very simple routine: pink moisturizer, hair grease, and weekly cornrows, braids and pigtails. So I never knew what it was actually like to wear my hair completely out. Then when I was in high school, transitioning from the relaxer experiment I ended up hating, I wanted to rock my afro, and I needed to learn how to keep it up myself.
I had no idea what my hair really liked for a long time. I feel that's because we were using all the wrong things back then, nothing that was truly nourishing or brought out the best in my hair. My hair was chronically dry, lacked definition, and shed like a Golden Retriever ( from lack of regular conditioning and grooming with the wrong tools.)
My mom only did what she knew. Plus, she and her siblings grew up with relaxers because her Mom and aunties refused to deal with "nappy" hair. It was social and generational conditioning that my mom decided to break with me and my sister. Unfortunately, we didn't know exactly what my hair needed back then. Thankfully the natural hair movement expanded into social media, and we started learning what we needed to know about caring for kinky, curly hair.
The trial and error lasted for YEARS until I finally learned exactly what my hair absolutely loved, what it hated, and what it didn't really respond to at all. Today, I'm still learning what works wonders and what I need to avoid. I'll be sharing a few lists of my holy grails for my type 3c/4a natural hair. This post will cover my holy grail styling products that bring out the best in my curls and makes them last.
If you spot any of your personal favorites, make sure to share down in the comments!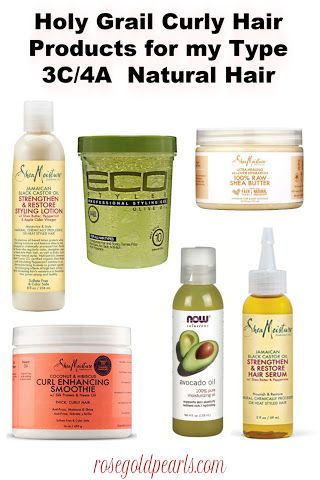 The curl enhancing smoothie by Shea Moisture is a moisturizing styling product that has a thick and creamy consistency. It's reminiscent of cake frosting. Unfortunately, it doesn't smell like cake frosting; instead, it's got that typical perfume-like fragrance that many hair products have.
This curly hair styling product is a GOD SEND, and a staple in THOUSANDS of fellow curly girls collections. This was the very first styling product for curly hair that performed exactly the way that I wanted it to. It remains a staple in my curly hair care routine. It makes my curls super defined and shiny.
People always ask me "What did you do to your hair?" and I respond with "Oh, I use the Shea Moisture Curl Enhancing Smoothie" every time. I'm in love with this and I'll be gutted if they ever discontinued it, which I'm sure they won't do if they're not looking for a riot, LOL!
Pricing
The price is in between what some would consider "affordable" and "expensive". Personally, any hair product below $10 is affordable, and any hair product above $25 I'd consider pricey.
At about $13 per 12 ounce jar, this can be considered in the mid range of hair care products. Most of Shea Moisture's products can be found priced between the $10-$20 range.
Thank God for Amazon, because I love to snag the little bundle deals on my favorite Shea Moisture products that I find on the site. On Amazon, you can order two "Family size" 16 ounce jars of the curl enhancing smoothie for under $30.
Gotta hunt for those bargains; they're all over Amazon y'all, and they'll save you some serious coin!
If you have a very loose curl pattern or very fine/thin hair, this may not be the product for you. It's a thick, heavy cream as I mentioned previously, so it may just your hair weigh down. Although if you still want to go for it, that's cool too!
If you have drier hair, this was definitely made for you. If your hair is on the oily side, you'll want to use a light hand with this stuff.
On my hair, this product is excellent at defining. It doesn't leave it feeling heavy, crunchy, or weighed down, and the curl definition and moisture lasts for a few days with usual maintenance. A little product goes a long way, and I prefer to apply this to damp/wet hair. I regularly perform the liquid, cream, oil (LCO) method using this as my cream component. My hair responds beautifully when I do it this way, rather than slathering it straight on with nothing else.
This natural hair product has definitely made it on my list of holy grails.
Their Jamaican Black Castor Oil line has also been a huge hit among the natural hair community. The entire line was formulated to cater to natural, chemically-processed, color treated, or heat styled hair. I especially enjoy their shampoo and conditioner and the hair growth serum they formulated.
This styling lotion is described on the bottle as a "precious oil based lotion that protects while restoring moisture and lustrous shine to dull, damaged, or chemically processed hair." It has a creamy lotion like consistency with a milky creme' color to it, and has a sweet scent like vanilla cake.
Pricing
The Strengthen & Restore styling lotion retail price varies between $7 and $12+ depending on where you shop. Amazon has this available or $7.99, or for the same price at Target.
Performance/Recommendation
At first, I was not a fan of this product. I wasn't sure if it was just because I wasn't combining it with the right products, using the right technique, or that it just wasn't for me. I let it sit in my closet for a few months before I gave it another try.
Ironically, I didn't think to touch it again until I'd run out of my curl enhancing smoothie!
I'm very happy that I gave it another try, because I've grown to love this. It gives similar results to the smoothie. They're certainly NOT dupes, but in terms of keeping my curls defined, moisturized and shiny, this checks off the boxes. I love to use this for my bantu knot outs, as a moisturizer and heat protectant before blow drying, or part of my LCO routine.
This can work well for finer and thicker hair textures, loose and tightly coiled. Thicker and drier hair may need to use a bit more than finer hair folks. Gauge accordingly.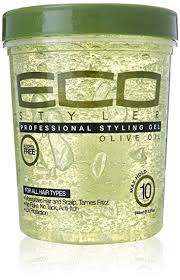 The ECO Styler Gel is no stranger to the natural hair community, or really any black woman to be honest. Now that the natural hair movement has expanded, we've got this selling out shelves beyond the local beauty supply, and women of all backgrounds have grown to love this affordable hair care gem.
Although it recently underwent some controversy, it looks like it was just another fear-mongering bandwagon that's rolled along and everyone's back to slaying their edges, slicking down their buns and and defining their curls with Eco styler olive oil gel.
There are so many options to choose from among the eco styler gel collection. My absolute favorite is the Olive Oil version. That may be because my hair has this obsession with olive oil, or it just has a bias towards this particular option. Either way, it's never failed me.
Performance/Recommendation
The eco styler olive oil gel works the best for helping me get slick and sleek ponytails and buns. I'll occasionally mix it with my Shea Moisture curl smoothie to give me crazy coils, meaning curls that last even through the most hot and humid days. I'm not a fan of the crunch it gives, but I'll combat that by adding a little oil (usually olive) after I've finished working this through my hair. This also works very well as an edge control and baby hair styler.
Just about any hair type and texture can use this gel. Be careful to watch for product buildup.

Check out all 3 options below!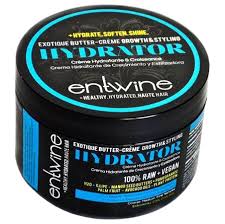 Entwine Couture is an indie natural hair care brand that has a nice variety of effective products. This is one of my two top favorites. The buttercreme hydrator is a butter based styling product that's described on their website as a "riche, lightweight, luxurious hydrating and growth crème moisturizer [that] is a must have for all natural, transitioning, or relaxed hair".
It has a whipped butter consistency that has a smooth and creamy texture. It glides onto the hair effortlessly and coats each strand evenly.
Performance/Recommendation
I got a sample size of this, the manipulator that I'll touch on soon, and a few other products from their line in the mail a while back. I doubt it was PR, considering I'd only gotten samples of Entwine Couture's products once, but it was a very nice surprise!
I'm actually going to combine my reviews for both this and the next product, so stay tuned!
I'm still shouting "Thank you God!" to the heavens for sending me this underrated treasure. I never ever thought that anything else out there would beat Shea Moisture, let alone compete so fiercely, but I've got to give it to Entwine Couture.
Don't get me wrong. I'm a big fan of other natural hair care brands like Cantu and Creme of Nature, but they don't hold a candle to this stuff right here.
I used to despise wash n go's. Seriously, I just couldn't make it work for me! In my mind, it just wasn't for me, until I used the buttercreme and jelle styler.
This has a VERY similar texture to Shea Moisture's curl enhancing smoothie, but is a bit more thick. This particular product is described on their website as "The Ultimate Natural Hair Styler for Maximum Curl Elongation, Definition & Style Longevity"
This product is definitely more for us with super curly, super thick and kinkier hair types. If you have type 4 hair, this will be a life saver for you!
Performance/Recommendation
This is literally THE ONLY curl defining styling product that I have ever tried that beats out the curl enhancing smoothie. I honestly didn't expect to be as impressed as I was when I tried this. In fact, when I realized how small the bottle was, I got a little mad, because I immediately wanted more. Sadly, it was outside of my budget at the time to replenish this, so I went back to Shea Moisture.
Anyway, this did something that not even the curl enhancing smoothie could do: it allowed me to successfully achieve a wash and go, for the first time in my whole life! I was convinced that I couldn't pull it off, because my hair would always shrink and dry out later in the day. This creme jelle styler from Entwine combined with the buttercreme kept my hair bouncy, shiny and defined allllllll night long!
I had just showered and was going out for the evening. I dreaded having to do a wash n go, but I was way overdo for a shampoo and I had to get my hair washed ASAP. After using those two products, I did not regret my decision.
If your desire is juicy, bouncy and defined curls that last all days on end, the creme jelle styler and buttercreme hydrator combined are the dream team that'll get the job done. Trust me, the price may be steep, but the products deliver. You're getting more than you've paid for. I can't wait to try a few more products from the Entwine Couture collection.
Those are it: my holy grail curl defining products for my 3c/4a natural hair! Next up Ill be sharing my holy grail all natural curly hair products that are inexpensive and can be picked up right at your favorite grocery store!