Must Have Natural Hair Tools That Make Life Easier
This post may contain affiliate links. This means that I may earn commissions from the companies mentioned in this post. As an Amazon Associate I earn commissions from qualifying purchases made through Amazon links included in some posts.
Maintaining the length and health of curly hair can seem like a ton of work at times. So I've compiled a list of my top must have tools for curly hair that makes life SO much easier!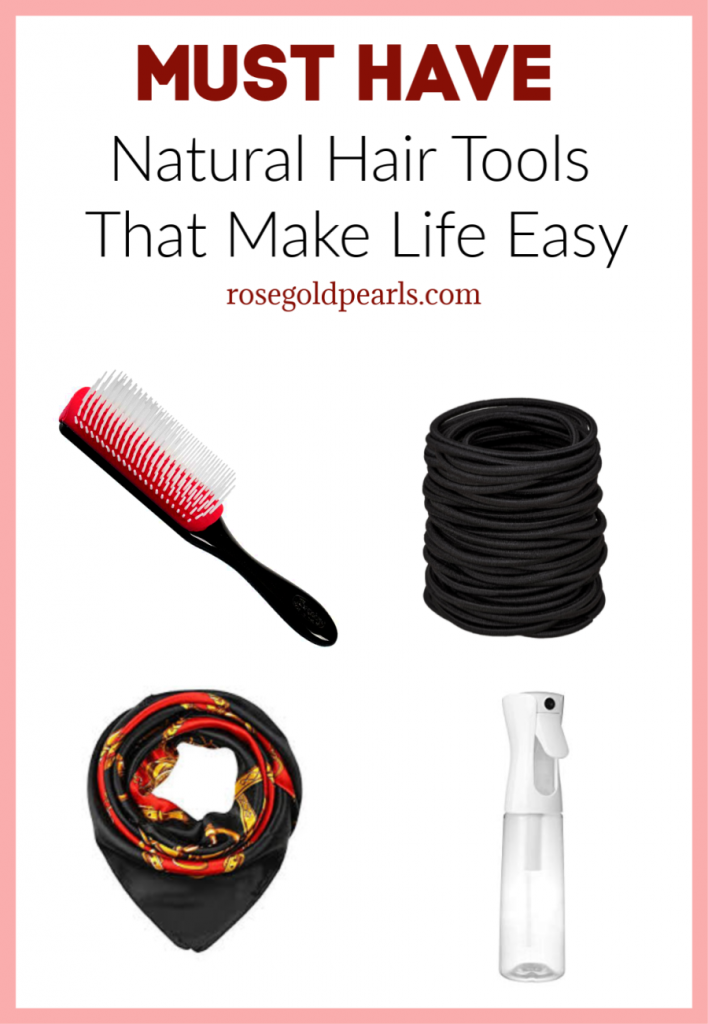 I never thought in my life that I would feel like I can't live without a certain hairbrush. But alas, that day has come.
This beautiful brush is a godsend. I am absolutely blown away at the way my hair responds to this state of the art piece of plastic.
My curls look stunning when I use this brush. My hair goes from bushy, tangled mess to a mound of silken, juicy, extra bouncy curls from just a two to three passes. I was floored by the reaction my hair had when I used this for the first time.
Only drawback is that the results cause extra shrinkage. I mean shrinkage shrinkage. That "Oh mg God, did you cut your hair??!" Type shrinkage. I can only rely on this for detangling and not styling, unless I want a bunch of super defined yet super short and tight coils.
All in all the Tangle Teezer gets a 20/10 from me. A wide tooth comb could NEVER!
Blow dry clips
These in particular I find work so much better than metal duck clips or the cheap plastic ones you get at the beauty supply. These help me keep my parts separated while I'm styling or working products like deep conditioner through my hair. They really help me with keeping my hair organized. My hair doesn't tug or snag on these either.
Silk or Satin anything
Deck yourself out in silk: silk scarves, silk bonnet, silk pillow sheets, silk hair ties… it all works wonders. silk and satin are perfect for protecting your hair from breakage, tangling and matting. Throw in a nice silk robe while you're at it too, keep up the self care queen aesthetic. I especially love satin scrunchies because my hair doesn't snag on them. They're perfect for bedtime or putting my hair in a "pineapple", or buns.
If you have the coins for silk, trust me, it's SO worth it! Personally, owning silk items makes me feel boogie and elegant! Makes me feel as if I eat strawberries and waffles for breakfast and bathe in rose water and coconut milk! Silk is one of those materials that makes you feel like a goddess!
Hooded dryer
A hooded dryer is such a necessity. I deep condition with heat because my hair is low porosity. I also love doing wet sets, roller sets and perm rod sets often. The dryer is monumental in helping my hair dry quicker and more evenly compared to sleeping in the rollers. How can people sleep in those things by the way? It's not comfortable… like AT ALL!

Good quality hair shears
As much as we all despise breakage and split ends, it happens. Now imagine having breakage and split ends, cutting the problem areas with some scissors thinking you're doing yourself justice, only to cause MORE breakage and split ends… #mindblown
Yeah, a nightmare, right?
Here's the thing: you have to make sure you're using sheers that are not only specifically made for cutting hair, but also make sure they're never dull. If they're dull, they won't cut the hair properly, even if it seems like it. The dulled blades create an awkward cut along the hair shaft that you can't see, which will end u splitting the strand all the way  up to the root. We don't want that now do we?
So put down the craft scissors (BLASPHEMY!) and the dulled hair shears and make sure you keep some good ones on hand for whenever you need them.

Hair Pins
For those days we're protective styling or just literally can't be bothered, hair pins have saved the day. Sure, you could make any ol' bobby pin work, but I prefer the sturdier ones, the ones make of metal, not plastic. Plus, it seems as if the thicker your hair is, the heavier the pins have to become.
Metal free Scrunchies
I'm sure every black girl remembers the times back in the day when our moms used those scrunchies and things in our heads. You know, the balls, the colorful rubber bands, the ties with those metal pieces in the middle?
If you've got no idea what I'm talking about, here are some images to help jog your memory a bit:
Ah, those were the days weren't they? Unfortunately those things were not and never were our true friends. Things like rubber bands, and ties with metal attached, can wreak havoc on our hair by breaking it off. It didn't help with how tight our folks insisted on tying these things.
If you're trying to preserve your curls and coils. It would be wise to opt for hair ties that don't have any sort of metal pieces attached to them. My favorites are the everyday and active no slip hair ties by scunci.
Aerosol Hair Spray Bottle
Regular spray bottles are ok, but they can get a little annoying.
… and by a little I mean a lot.
Now that we're nearly 2 decades into the 21st Century (Jesus Lord Christ that one punched me right in the chest) we've got access to a more evolved and fancier version: introducing aerosol spray bottles!
When I saw that just about every natural hair blogger and guru had one of these things. I knew it was time to try one out. And boy am I glad I got my hands on one. There are so many options all over Amazon. Now, it does cost a few dollars more than a traditional spray bottle, but this really does a great job. This spray bottle in particular sprays a continuous mist of water directly onto the areas you desire. In other words, you won't have to worry about getting yourself and everything around you soaking wet!
I guarantee that after adding these must have accessories for healthy natural hair, you'll be amazed at how much easier life with curly hair will become!
Here are some additional options below!
Q&A Time!
Let's start a conversation in the comments by answering these questions:
Have you been using any of these curly hair accessories already?
Which are your favorites?
What's your curly hair must have that makes your life easier?