Natural Hair Product Bundle Deals on Amazon That Will Save You Serious Cash!
This post may contain affiliate links. This means that I may earn commissions from the companies mentioned in this post. As an Amazon Associate I earn commissions from qualifying purchases made through Amazon links included in some posts.
When you have naturally curly hair, it can get expensive! All the products that we have to use sometimes just to keep our hair in check can get overwhelming! You go into Walmart or Target expecting to pick up a few things, and the total makes you want to gag. I swear, when you're natural you go and only have 3 items to our cart and the total comes to $97.60!!
How Sway?!?
Now I'll admit it; while I love a good bargain hunt, I'm not a complete cheapskate. Personally I've got some pretty elaborate taste at times, so spending isn't what bothers me. I just have to feel like it's worth it, and I avoid spending more money than I really need to for things. Natural hair products are one of those things. I don't know about you, but I can't seem to wrap mu head around the idea of spending $40+ on a deep conditioner. Like… why?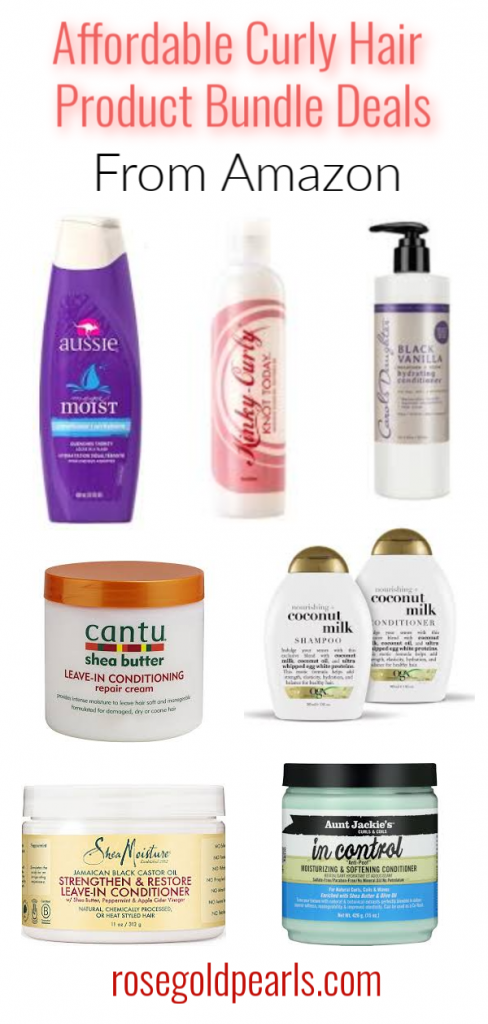 This post is inspired by my love of bargain hunting for good deals, and awesome curly girl products that are affordable and effective! Since just about everyone shops at Amazon, here are some of the best natural hair product bundle deals that I've found on the site!
The Jamaican Black Castor Oil line from Shea Moisture seems to be one of their most popular! We also know how expensive Shea Moisture products can get when you buy them individually. Well, this bundle deal will give you everything you'll need to survive
a full week of healthy, strong and poppin curls and coils! This bundle includes a shampoo, conditioner, deep conditioner AND a leave in conditioner, all for just $41.99! It's a steal sis; don't pass this one up!
Carol's Daughter is another awesome natural hair company that makes wonderful products for those of us with curly hair. I love the Almond Milk line because it works so well in my hair. The sulfate free shampoo is non-stripping and leaves my hair soft, detangled, and manageable. The conditioner is the perfect cherry on top! My hair is buttery, silky and free of any and all knots.
Individually these would cost $12-14, but with this bundle you get the shampoo and conditioner together for only $14! So youre getting a pretty sweet 2 for 1 deal here!
If you're a fan of the Black Vanilla line too (like me) you can get the shampoo and conditioner set for the same price!
The deep conditioner is one of my fvorite natural hair products ever! I heard so many natural hair bloggers rave about this one from the line. so I finally gave it a try and fell in love!
If you;d rather do without the deep conditioner (side eyeing you, by the way…) then you can opt for just the shampoo and conditioner set
for $10 less.
One of my favorite shampoos for my curly hair! You can grab this deluxe sized set for less than $20 on Amazon!
The coconut milk shampoo and conditioner from OGX is another favorite combo of mine. This along with the coconut curls line works tremendously on my curls! Coconut milk seems to be one natural ingredient that my hair adores, so seeing it in hair products automatically intrigues me.
Avocado is another natural ingredient that my hair is obsessively in love with, so that's what inspired me to try this conditioner. I remember getting a sample of this in a Pinchme box a while ago, and this really impressed me!
It melts away every tangle and knot, and my hair feels buttery soft after rinsing this out. If you can't be bothered with conditioning your hair for hours every week, this makes a great quick fix.
This is another favorite among many natural hair bloggers, and I understand why. This conditioner is like a detangler, moisturizer and styler all in one! This is a great leave in if you're a fan of the LOC method.
I shared this deal in one of my most popular blog posts highlighting my holy grail curl defining products.
In this bundle you get two 16 oz tubs of the curl enhancing smoothie. One tub of this lasted me for over a month on my medium length hair. A little of this stuff goes a long way, so this will last you for quite some time. For only $21.99, this is definitely a steal. One 12 oz tub of this can run you $18, so … yeah, there's that!

There are quite a few conditioners on this list! But I mean, come on; conditioner is life! This leave-in is a big hit and a fan favorite, so I had to include this one for my curlies who can't get enough of this!
I don't think Aunt Jackie's gets enough love from the community. The products seem underrated if you ask me. I love that this set that I found features everything you need for a great wash day: shampoo, conditioner, a ldetangler and a styling gel for juicy, poppin' curls! They've even thrown in a nice sloe vera mask if you want to make a nice little spa day out of your wash day routine. You get all of this here for only $39.99! Try pulling that off at the beauty supply!
If you're into your hair stylers and a fan of the coconut and hibiscus line, this bundle is calling your name. This deal includes a tub of their curl enhancing smoothie, the hold and shine moisture mist, and the frizz free curl mousse. From wash and go's to roller sets, this gives you everything you need for a bomb curly hairstyle that lasts.

Kill two birds with one stone by getting both your leave in and styling cream in one package deal. I've achieved plenty of stellar twist outs using the Jamaican Black Castor oil leave in conditioner following up with the curl enhancing smoothie. If you're a fan of the LOC or LCO method, add in an oil like Shea Moisture's 100% extra virgin coconut oil or the Jamaican Black Castor Oil Strengthen & Restore Hair Serum to seal all that good moisture in and keep your strands soft, conditioned and protected!
Cantu has a fantastic selection of affordable natural hair products. This bundle includes a few of my personal favorite. The tea tree and jojoba oil is awesome for sealing in that leave in conditioner. It's also great to oil your scalp with for healthy hair growth. The grow strong strengthening serum can also be used directly on the scalp to stimulate the pores and encourage hair growth. If you're looking to grow long, strong and healthy hair, this is a bundle you should definitely try out!

Another bundle from Cantu, this deal will get you their
If you're a fan of Kinky Curly's hair products, you also have an idea of how expensive they are! I definitely put this brand up there with the higher end haircare brands. Their knot today conditioner is a leave in and detangler in one that melt away any tangles, knots or  unruly kinks and creates amazing definition and shine. Grab this bundle deal on Amazon for less than $25!
Ok, if you're honestly surprised at how many times deep conditioner is mentioned in here, then sis, get with the program! Deep conditioning is a staple in a natural's routine, and I'm trying to equip you with the must haves that you need in you need to add to or  replenish in your collection! The Shea Butter deep treatment masque is another superstar that gives my hair the moisture and manageability I need. Now you can grab two family sized 16 oz tubs of this for $26.99!
For all of my naturally curly hair girls out there, I'm glad to be of service!
Q&A Time!
Get the conversation started by answering these questions in the comments:
Have you spotted some of your favorite products in this list? What are they?
How much do you usually spend on hair products a month?
Will you be taking advantage of some of these awesome deals on Amazon that can save you some serious cash?