12 Days of Christmas Gift Guides: Stocking Stuffer Ideas from Ulta
This post may contain affiliate links. This means that I may earn commissions from the companies mentioned in this post. As an Amazon Associate I earn commissions from qualifying purchases made through Amazon links included in some posts.
Ulta is one of the leading mainstream beauty supply stores in the United States right now. Their popularity has garnered them millions of fans around the world. It's one of my favorite places to go shopping for my beauty products. I could browse around in there for hours. Being one of Sephora's rivals, Ulta's one-up on the other uber-popular chain is their accessibility: they carry both drugstore and higher end/luxury beauty brands, so there's something for everyone in there! On top of that, I tend to prefer Ulta's rewards program over Sephora's, due to incentives like cash off your future purchases and their gifts with purchase deals.
For this holiday season, the sales at Ulta are on fire and the gift giving possibilities are endless! I've got some great stocking stuffer ideas from Ulta that will fit any price point. From brands like Clinique, MAC, and First Aid Beauty, these gift ideas are sure to please a variety of tastes.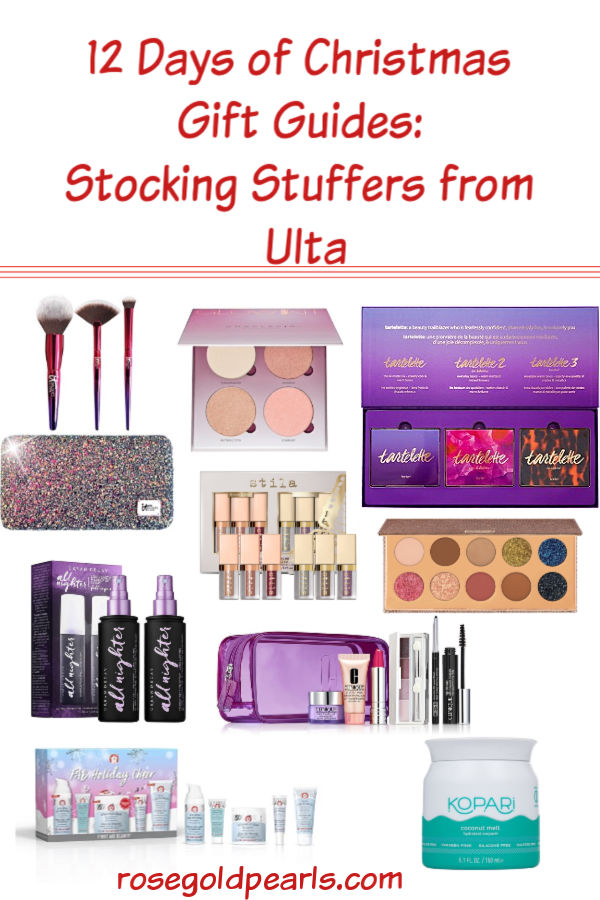 MAC Smoky Eyes Shiny Pretty Things Eye Bag
MAC is to this day one of my favorite makeup brands of all time. Their eyeshadows and eye products are superior, and what better way to experience them than by grabbing this little holiday gift bag? It comes with a palette of 8 shades that can be applied wet or dry, their In Extreme Dimension Lash mascara, and the Technakohl eye liner.
First Aid Beauty FAB Holiday Cheer Kit
First Aid Beauty is a great "clean" skincare brand. This holiday set is a great way to try out a variety of their products. I really enjoy the face moisturizer as well as the pure skin face cleanser. According to Ulta.com, the set includes:
Ultra Repair Face Moisturizer (1.7 oz)
Facial Radiance Intense Peel (1 oz)
Ultra Repair Cream (6 oz)
Ultra Repair Lip Therapy (0.5 oz)
Pure Skin Face Cleanser (2 oz)
These products will have you all set in facing the harsh winter weather!
I consider Kopari the reigning champion of coconut oil infused beauty products. Their lip balms are to die for, and I'm a big fan of their coconut body melt and the coconut rose toner. In this gift set you can grab a 2.5 oz jar of the Coconut Melt and a tube of their Coconut Lip Glossy (my favorite!) for only $21!
Clinique is one of my favorite department store brands because they have something for everyone. Their line of skincare is full of variety and great choices. Some of my favorites are the moisture surge 72 hour hydrator moisurizing gel cream and the take the day off makeup remover balm. In this set features some of their bestselling makeup picks, including:
Take The Day Off Cleansing Balm (0.5 oz)
All About Eyes (0.5 oz)
Dramatically Different Lipstick Shaping Lip Colour in Strut (0.1 oz)
Limited Edition All About Shadow Quad (0.17 oz)
Quickliner For Eyes Intense in Intense Ebony (0.005 oz)
High Impact Lash Elevating Mascara in Black (0.26 oz)
Get The Look Card
Cosmetics Bag
It also includes an additional 4 piece mini-set as a free gift!
Stila Enchanted Eyes Liquid Eyeshadow Set
The liquid eye pigments from Stila have rocked the beauty world, and now they're available in this cute little set for the holidays!
It Brushes For Ulta Your Rockstar Brushes Limited Edition 3 Pc Brush Set + Glitter Clutch
It Cosmetics makes wonderful makeup brushes. This set includes 5 brushes for eyes and face, and they come in the cutest little glitter clutch!
Anastasia Beverly Hills Sugar Glow Kit
I swatched the Sugar glow kit in Ulta and fell in love with the shades.The shades in the sugar glow are highly pigmented and great for fair to dark/deep skin tones. The sun glow is a good one. but this one is in sale for half price the sun glow palette. So, why not take advantage?
Urban Decay Cosmetics All Nighter Full-Size Duo
Y'all know that the All Nighter setting spray is a staple in my makeup routine. It makes your face last quite literally, all day and night long. I was so impressed the first time I used it that for a while. I used nothing else. Grab this and give someone the gift of two bottles for only $39. Normally, grabbing two of these would retail $60! You can guess that I may or may not be gifting myself this duo.
Dose of Colors Desi x Katy Eyeshadow Palette Friendcation
Dose of Colors makes beautifully pigmented products, so this palette is nothing short of amazing. It's got a few neutrals, a few daring and bold colors, and shimmer/metallics  that shine brighter than your future!
Tarte Cosmetics Online Only Tartlette Vault
I was never a die hard fan of Tarte, but these eyeshadow palettes are AMAZING! I remember being underwhelmed with the color choices when I first saw other beauty influencers use the pallettes. But I got an immediate change of heart when I decided to swatch them in -store. The toasted palette is my favorite out of them all; it has the perfect shades for falla dn winter, and for the holidays. I love that the tones in these palettes are wearable and neutral, but not boring or lackluster. Each of these palettes retail for $39 each, so these would normally add up to $117, plus tax. So grabbing all 3 for only $90 is a great deal!
Come back tomorrow for another installment of the 12 Days of Christmas Gift Guides!
Q&A Time!
Let's chat in the comments. Get the convo started by answering these questions:
How much do you love shopping in Ulta?
Which of these gifts would you love to see in your stocking on Chistmas Day?
Who do you know would be super excited to receive one of these stocking stuffers on Christmas Day?