12 Days of Christmas Gift Guides: Christmas Gifts for the Luxury Connoisseur
This post may contain affiliate links. This means that I may earn commissions from the companies mentioned in this post. As an Amazon Associate I earn commissions from qualifying purchases made through Amazon links included in some posts.
The luxury connoisseur loves to live the good life: anything posh and lavish they're all for it! This person shamelessly appreciates the finer things in life, and is always in search of the excellence, elegance, and the best of the best.
While I certainly won't be suggesting you go out of your way to buy a mansion and yacht for this person, these smaller gestures are sure to grant them just the same amount of excitement and gratitude.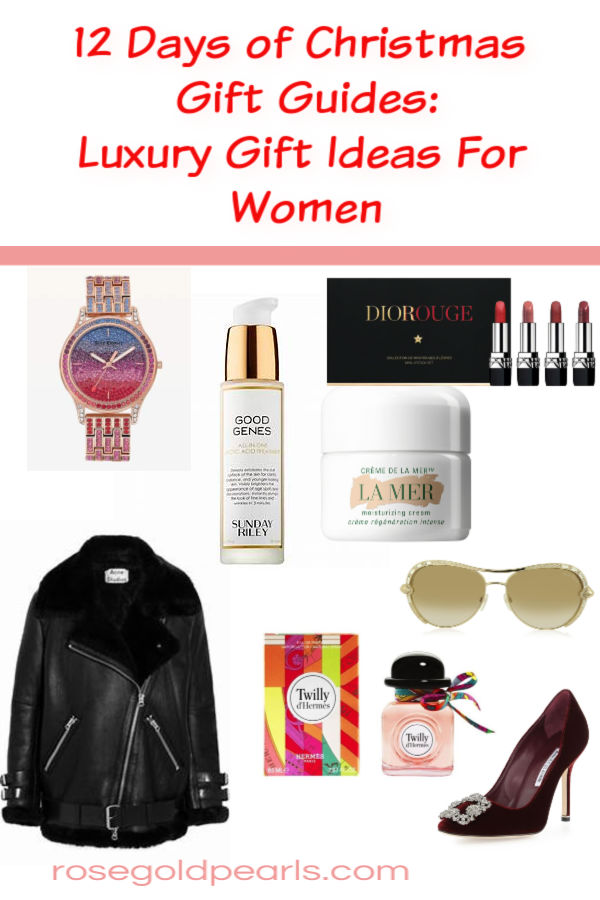 La Mer – The Moisturizing Soft Cream
La Mer is known as one of the most luxurious skincare brands of our generation due to their very pricey product selection. The moisturizing cream is raved about by top beauty influencers, beauty editors and even celebrities for it's almost miraculous skin renewing formula. Their moisturizing cream is suitable for all skin types and is an excellent anti-aging cream.
Sunday Riley Good Genes Treatment
This treatment is regarded as one of the most highly coveted luxury skin care products of out time. There's no longer a need to spend hundreds on expensive monthly professional treatments when you have this serum in your collection. This lactic acid treatment is a gentle chemical exfoliate/peel that has changed the lives of many. This treatment is ideal for skin types dealing with aging, uneven tone and texture, acne and dryness. For those who want extra glowy, younger and vibrant skin, this will be a life saver for them.
Hermes Twilly D' Hermes Fragrance
This scent is a lovely fragrance for women who love a mixture of sweet and spicy. The notes of ginger add the spice while the subtly floral notes add that sweetness that brings femininity, poise, grace and sophistication. This is no sugar sweet teenage perfume: this is for grown women who've got things to do and people to see!
Acne Studios Velocite Shearling-trimmed Leather Biker Jacket
Alright so, this jacket is definitely a statement piece. BUT, it certainly will stand the test of time. Acne is known for their elite craftsmanship for outerwear. This trendy never-go-out-of-style biker jacket will keep you warm and last many winters to come. The lucky person who gets this can match it with practically anything, and stay warm in style. If they ever grow bored of it (which is highly unlikely, but just in case) this baby will make you back a pretty penny on Poshmark.
Dior Rouge Dior Mini 4-Piece Lipstick Set
We all know Christian diior as a very luxurious, lavish brand. Their beauty line of makeup, skincare and fragrances are nothing short of that, offering a wide selection of amazing products, including their award winning lipsticks. This lipstick set features 4 mini sized Rouge Dior lipsticks in gorgeous shades that'll flatter any skin tone. From the sleek, luxe black and silver packaging to the creamy application, these lipsticks are a beautifully luxurious experience that is sure to please the luxury connoisseur.
Manolo Blahnik Women's Hangisi Pumps – Blue Satin
The classic "Carrie Bradshaw" pumps are a must have for the women that appreciate the finer things in life. It's the perfect pump to wear almost anywhere, from brunch with the girls to a night out at the lounge. Sexy, a little flashy, yet still sophisticated and classy.
I may r may not have set up that rhyming sequence on purpose. LMAO!
Gucci Velvet Ballet Flat with Bee
These unisex flats are the perfect boogie slippers! They'll flatter both men and women, and are appropriate to teem with just about any outfit. While I'm not a fan of Gucci's many rather "dated" and sometimes obnoxious selections, these flats appear timeless and wearable for any occasion, any time of the year, and for years to come. They don't scream "Gucci" in an overly flashy way. Personally I tend to gravitate towards designer pieces that don't scream "LOOK AT ME, i'M WEARING DESIGNER!" I love pieces that are of high quality and just happen to be designer and of my taste. I admire that these flats aren't overtly pretentious and give you a very prestigious and stylish look.
Roberto Cavalli SULAPHAT 975S Gold Metal Aviator Women's Sunglases w/Crystals
When I first laid eyes on these, I thought they were to die for! The gold color with the crystals and the sleek design make these look so stylish and luxe! I'm sure we're well aware that aviator style sunglasses can flatter a variety of face shapes. They are wearable for all four seasons, and will make you look like a million bucks. I'm sure whoever will be gifted these babies will be happily delighted; I know that I would be!
Juicy Couture Ombré Crystal Watch
This timepiece is sure to turn heads. it's all of my dreams come true: pretty, glittery, shiny, and girly with tons of fun colors. First of all, it's rose gold, and hellooooo, I named this blog after the color! Of course, I'm already itrigued. And then it features an absolutely stunning ombre design on the clock with a hot pink transitioning into a purple to deep blue hue. It is a gorgeous piece, and looks like it's worth thousands of dollars, even though it'll only cost you a few hundred. You just have to see it to belive it (product showcase down below). I don't know about you, but I'd be delighted to receive this gem in my stocking!