12 Days of Christmas Gift Guides: Christmas Gift Ideas for Girl Bosses
This post may contain affiliate links. This means that I may earn commissions from the companies mentioned in this post. As an Amazon Associate I earn commissions from qualifying purchases made through Amazon links included in some posts.
It's day 11 of the 12 Days of Christmas gift guides series, and today we're covering the perfect gift ideas for girl bosses! For my fellow women entrepreneurs and career ladies, life as a girl boss can be just as stressful as it can be rewarding. Although we lead on that we're "self-made" and independent, sometimes we could use additional support from loved ones. What better way to support than a nice Christmas gift that'll make their lives easier, or more organized, or more glam? Either way, I'm sure they'll be grateful. Let's get into the presents!
Oh, and keep in mind: to help you earn some extra cash over this holiday season, sign up for Ebates today so you can cash in on all the holiday shopping you'll be doing all month! I shared this guide on how to save the most money on your holiday shopping so you can get the best deals and earn some cash back too!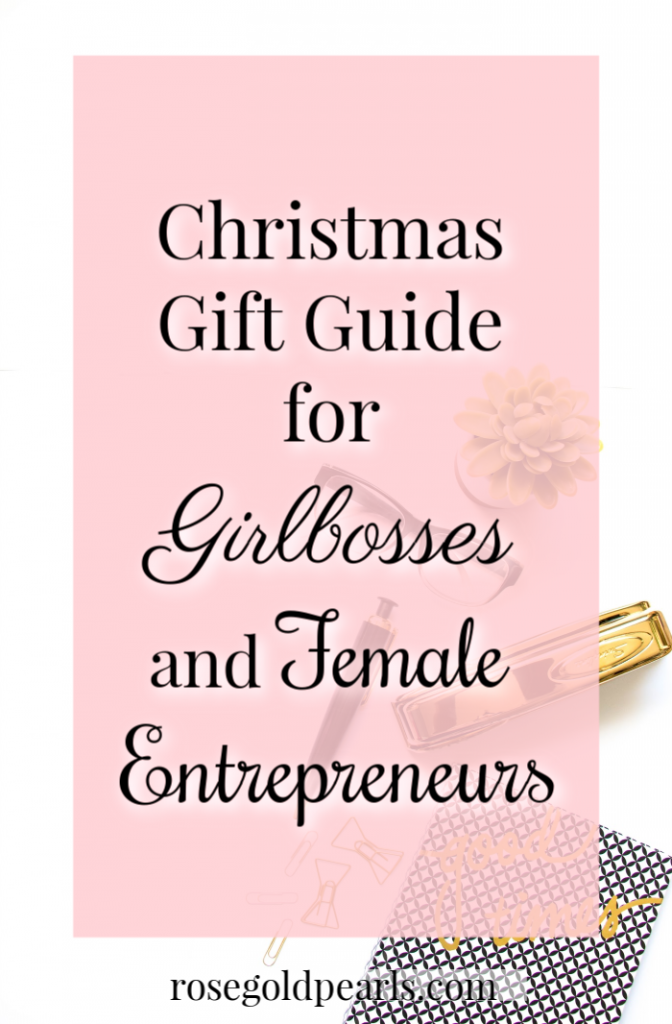 A Good Pair of Glasses
Give them the gift of a good pair of glasses! A nice pair of frames will make any woman look like the genius mastermind she is! Whether it's simple reading glasses, prescription glasses or just for fashion, Warby Parker has plenty of stylish options to choose from! As a glasses wearer myself (for pretty much all of my life) I can appreciate a sharp pair of spectacles to give me a smart and sexy look. Have a look at their Winter 2018 Collection where they have new styles aligned with this season's trends. Give them a gift of a chic pair of glasses, or go the easy route and just send them a gift card! I've listed few of my favorite styles below:




An Awesome Planner/Organizer
Girl bosses can have a stressful time with trying to keep organized. With all the responsibilities of running a business, like deadlines and launch dates, meetings, events, the holidays, it can get hectic! For me, having a journal where I can physically write down my plans and goals is tremendously helpful, and even relaxing believe it or not! A pretty little journal or planner can be a great Christmas gift for girl bosses! The cutest little boutique I discovered about a year ago is Sweet Water decor. The business is run by women, for women, and their products are adorable and scream the values of self care and living your best life! They've got four styles of planners, and my favorite ones are below!
Cute Coffee Cups
For those who depend on a good cup of coffee to get them going in the morning, they're obviously going to need something to put it in. Sweet Water decor also has the cutest little mugs and travel cups fro women. These are my absolute favorite choices that I believe would be the perfect gift idea for girl bosses:
A Fire Red Lipstick
There's nothing better than a red lipstick on a woman. Seriously, It's such a power color, and perfect for a powerful woman. My favorite picks are definitely either "Ruby Woo" or "Russian Red" from MAC, or "A Little Magic" by Sephora's Lipstories collection. They're vibrant reds that aren't too bright or too dark. They hit that perfect middle ground of the perfect red shade that will suit just about any skin tone. I have a whole blog post where I discuss my top 10 red lipsticks for those with medium to deep/dark skin tones.
A Flattering Suit
Sure, it may seem a bit cliche', but let's be honest: who wouldn't feel like a total badass/powerhouse in a good suit? We all know that suits are not just for men. A well structured and tailored pantsuit or dress suit on a woman gives off a certain level of professionalism and sophistication, and can still be made to look chic and fab! The R & M Richards Glitter-Print Pantsuit is a cute tailored pantsuit at a fair price point that comes in sizes 6-18! Color options include black, navy, or plum. I like plum; it's virtually universally flattering color and shakes things up from the usual black we're used to.
The Perfect Work Bag
What girl boss can function without the perfect work bag? In my eyes, that is definitely the Givenchy Antigona Tote bag! I'm absolutely in love with the bag. It's so structured and simple, practical yet super stylish and luxurious. I love that while being a designer bag, it doesn't make itself obvious. The logo is discreetly spelled out in silver lettering, so it's not jumping out in anyone's face. It's a larger bag, even the small version, and you can fit practically anything you want into it, including your laptop, tablet, phone, makeup bag, and other larger objects.
Fire Pair of Shoes
Strutting in a killer pair of pumps can make any woman feel like a power woman, a woman that can take on the world! Give a girl boss a pair of heels that'll make her feel like a boss. For me, those shoes would be a pair of Louboutins, Manolo Blahniks, or Gianvito Rossi's! The Cosmo pumps from CL in black are a great pick, as well as the classic Hangisi Pumps AKA the "Carrie Bradshaw" shoes from Manolo Blahnik and the Ellipsis pumps from Gianvito Rossi.
Q&A Time!
Let's have a discussion in the comments! Start the convo by answering these questions:
What gift would you love to receive as a #girlboss?
How much would you love to give or receive one of these gifts?
These gifts are perfectly suitable for non-working women: which one would you add to your wishlist?