The Best Red Lipsticks For Dark Skin Tones under $20
This post may contain affiliate links. This means that I may earn commissions from the companies mentioned in this post. As an Amazon Associate I earn commissions from qualifying purchases made through Amazon links included in some posts.
Note: Affiliate links are included throughout this post. This means I may receive a commission at no extra cost to you when you engage with these links. Please check my FTC Blogger Disclosure for more details.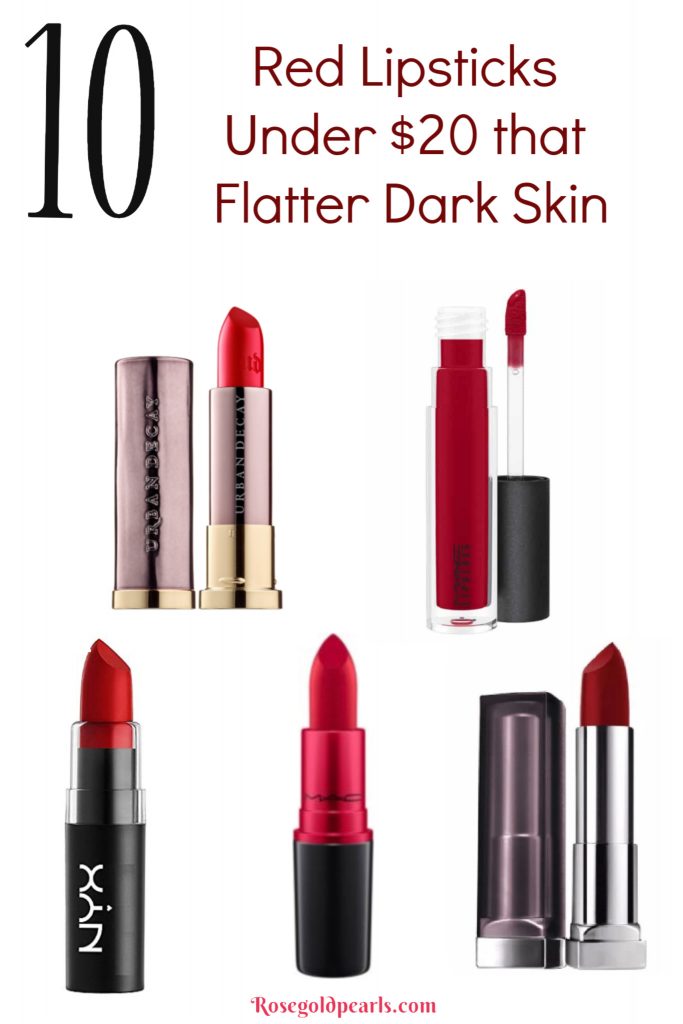 My favorite color has always been red and it always will be. Red is the most beautiful, vibrant, universally flattering color there is. I've yet to see one single person who did not look good in red.
The perfect red lipstick isn't usually hard to find. Red lipstick makes virtually any look pop. It adds that subtly flirty and sensual appeal, while still being appropriate for just about every occasion. A classic red lip will NEVER got out of style. Since the olden times, it;s remained a staple in a woman's makeup collection.
Remember when I said red is a universally flattering color? Well call me biased if you want to, but I just feel that there's something about the way that red pops on a deep brown skinned women that is so enchanting. While a red lip can look good on just about anyone, there's been this myth in the past that red lipstick doesn't flatter women with dark skin. Sorry, but I have to call BS on that. Red lipstick is absolutely beautiful on dark skin women. Unfortunately, I've seen many of my fellow sisters believe that myth to this day. I'm here to show you that not only can you pull off a beautifully bold red lip, but you can also cop plenty of them at pretty affordable prices!
It's super easy to find the perfect red lipstick at a lower price point that displays impeccable color payoff, a dreamy creamy formula, and impressive longevity. From true reds to deep red and berry shades, these red lipstick shades especially flatter and enhance the beauty of every woman with dark to deep brown skin.
When I was browsing through the Sephora website I came across the Sephora Collection lipstories line. The $8 price point is what reeled me in at first. Then I went through the shade options and this red one caught my eye immediately.
Well, who am I kidding? When I'm interested in a lipstick, I always want the red one!
Anyway, I ordered it, and it arrived 2 days later since I have flash shipping. Meaninglessly story over, I fell in love with this lipstick immediately and wear it at least 3 times a week. This lipstick reminds me a lot of Mac's Russian red matte lipstick, without being so matte. The Sephora lipstories lipsticks are a much more creamier lipstick with a demi-matte like finish, I LOVE how creamy is feels when I swipe this on. I've gotten just about 10+ compliments on this lipstick since I got it. Obviously, it's a winner. And at $8, you truly can't beat it.

Another beautiful red lipstick for WOC is this one by Milani. This was my first red matte lipstick that I purchased with my own money and it was my best friend for a long time. I will say that the most annoying thing about this lipstick was that it would bleed on me sometimes. I began using lip liners and the concealer trick more often and it was no longer an issue. This very much reminds me of MAC's matte Lipstick in Perfect Score. That's my mom's favorite red lipstick. This is a good alternative for her for when she doesn't wish to spend $17. For less than $5 this is probably the best red lipstick for WOC when you're on a strict budget.
I ordered four of these from the Ulta website and fell in love with them! Last fall I posted a review on them all, but unfortunately it got deleted by accident! These have to be my current favorite liquid lipsticks because it's not drying and the creamy feel allows it to smooth on the lips without being patchy or uncomfortable. I reach for lip creams more often than straight liquid lipsticks because of that benefit alone. This color is a very bright red perfect for spring and summer. It's almost like a red-orange. This is a lovely matte red lipstick for WOC for the spring and summer.
Maybelline "Siren"
This lipstick is from Maybelline's Color Sensational Creamy Mattes collection. Siren is a beautiful bright red shade similar to Mac's "Ruby Woo", at least in my opinion. I used to call this a "Taylor Swift" red lipstick, ha! The formula is excellent for a drugstore lipstick: it doesn't bleed outside of the lines or leave a hard to remove stain on my lips. It wears pretty well through drinking or light snacking. But if you're planning on crushing a bacon cheeseburger deluxe, you can kiss this lipstick goodbye! LOL!
Siren can compliment a variety of shades from golden tan to rich deep skin tones.
Sephora Collection "Ruby Luster"
This is a liquid lipstick from the Sphora Collection Luster Matte Long-Wear Lip Color line. It is an absolutely beautiful bright red shade that glides on the lips smoothly and effortlessly, without cracking, crusting or bleeding throughout the day.
It is a creamy formula that dries down to a matte velvet-like finish and this wears comfortably on the lips. However, they're not the kind to last through eating or drinking (without a straw that is).
It's a cross between the perfect blue-red and true red lipstick. I love this when I want to swipe something on quickly and be more bold and fierce.
Milani "Devotion"
Devotion is a matte cream lipstick from the Milani Amore Matte Lip Creme collection. It's a gorgeous bright red that pops on dark skin. This liquid lipstick can be a little drying, but that's easy to avoid when you keep the right lip balm on you at all times. Keeping your lips moisturized and chap-free is essential when you love wearing matte lipsticks.
This lipstick is a cult classic and a must-have red for every woman. It is my favorite red lipstick of all time! The claim to fame for Ruby Woo is its vibrant red hue with blue undertones that flatters people of any and every skin tone. Ruby Woo is especially breathtaking on dark skin WOC.
Ruby Woo has remained one of my go-to red lipsticks for the past two years!
I picked this up at Nordstrom Rack for $9.97 since it was marked down from $17 and I thought it was a good deal. It's obvious that Urban Decay was trying to compete with MAC with this launch, and I will say that they turned out to be good competition. This isn't so much of a mega matte to me considering that Ruby Woo is probably the most matte traditional lipstick I own. This one is easier to apply than Ruby Woo, and the beautiful blue toned red color stands out lovely on my dark brown skin tone. This is definitely a great red lipstick for WOC.
I first found this in the beauty supply store and picked it up just because it was $5 and it was pretty! Once I tried it on I realized that it wasn't just pretty; it was beautiful! The texture was so smooth and easy to apply without contradicting its matte claim. It became one of my favorite affordable red lipsticks. Unfortunately I no longer have this lipstick and will need to repurchase soon!
MAC "Perfect Score"
Perfect Score is a matte red lipstick from MAC that has a true red hue and a perfect matte finish. If Ruby Woo is a bit too intense of a red to your liking, then you can try out this one. I love this as an everyday red lip (yes, that can be a thing) because it's not too loud, but it still makes a statement. All of MAC's matte lipsticks can be a bit drying, but the traditional mattes aren't as drying as the retro mattes.
Like any of these options? Grab a few right here!
Q&A Time!
Let's chat in the comments by answering these 3 questions:
Have you spotted some of your favorites on this list?
What's your go-to affordable red lipstick?
Who's your favorite lipstick brand?