Chanel Rouge Coco Gloss Moisturizing Glossimer
This post may contain affiliate links. This means that I may earn commissions from the companies mentioned in this post. As an Amazon Associate I earn commissions from qualifying purchases made through Amazon links included in some posts.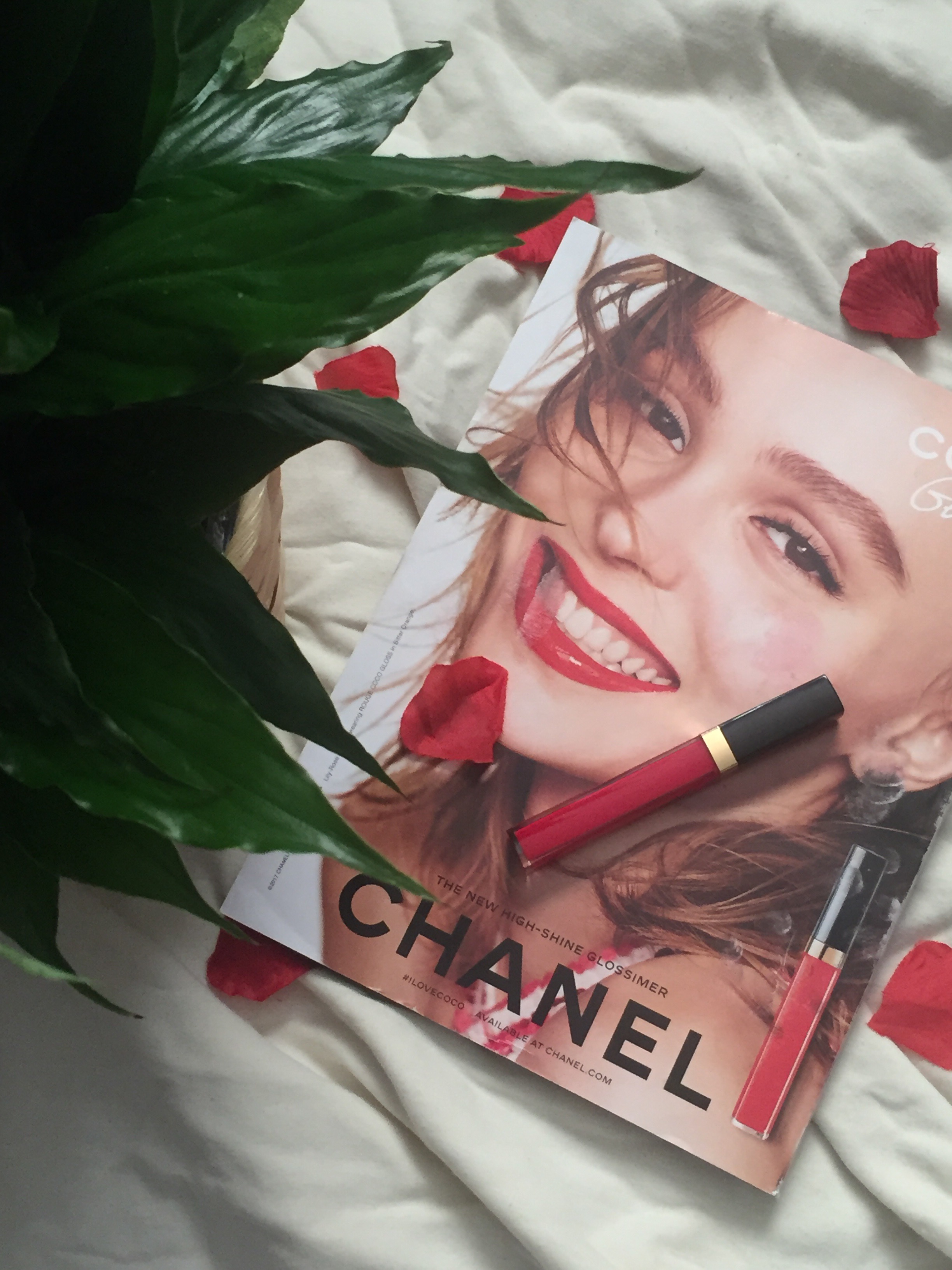 When I heard of Lily Rose Depp campaigning with Chanel to advertise their newest beauty release, the new Chanel Rouge Coco Moisturizing Glossimer, I didn't get much intrigued. I'm a fan of Chanel bags and shoes, but I never tried their makeup before. I've always been curious, but never actually took the time to test out samples and see for myself. The way it looked at first, just passed off as a regular schmegular lip gloss to me. Is a lip gloss really worth paying over $20 for? Then again, I'd only seen 10 second ads.
A few weeks ago I'd stopped inside Bloomingdales to have a look around. The cosmetics counters were on the first floor, so naturally I stuck around instead of going to see the shoes like I'd originally planned. Chanel was to my left and I stopped to explore. A wonderful lady offered me assistance and I was able to get a sample of one of their foundations, which is pretty nice so far, by the way.
Anyway, I looked at the display of the Chanel Rouge Coco glosses. I'm such a lip product junkie so I'm always searching for the best lipsticks and glosses and such. The colors were so pretty and there were a few that were quite unique, at least to me. I'm obsessed with deep dark vampy lips so I picked up the darkest one I saw first. Sadly I was disappointed because it was a bit too sheer for my taste and not as opaque as I'd expected. I was thinking it'd be close to another gloss I had, the NYX Intense Butter Gloss in Black Cherry Tart. Now a NYX Intense Butter Gloss? THAT'S opaque!
Moving along I moved on towards the nudes and reds. The spring season had just begun and it was time for me to bust out of my comfort zone and try some lighter and brighter colors. I've been in search for the perfect nude and mauve lipsticks and glosses for me, and a few actually caught my eye. I contemplated getting them before my eyes wandered to this pretty red coral shade. I swatched it, it looked gorgeous, and so I purchased it! I would've loved to get every color I wanted, but did I really want to spend $100+ on some lip glosses that day? Nope!
I'll just get back to them. They're not going anywhere.
Love At First Swipe
I wore it the same day and fell in love! The color on me really did look good. The texture felt wonderful. The longevity was very impressive. I ate a late lunch and I didn't even need to touch up! I could have, but looking at it I really didn't have to. I knew I was falling for these glosses.
How much?
Since the Chanel Rouge Coco lip glosses cost a crazy $30 each, I thought "are there any dupes for this?" After all, the campaign slogan does say "You can't have just one." And they were so unfairly right! If I can save money and find something just like this for less, I'll take it!
The Dupe Search Is On!
Although I was pretty much sure I'd contemplate purchasing another Chanel gloss, I just wanted to see if there were any less expensive options out there. Was this Chanel Rouge Coco lip gloss worth the price? Or could I find something just as good for a fraction? Well instead of picking out every inexpensive gloss from CVS I went to the brand I love the most for inexpensive lip gloss: NYX Cosmetics.
I'm a huge fan of the NYX Intense Butter glosses as I kinda mentioned earlier, and I thought the Chanel Rough Coco  gloss felt similar. However, I couldn't for the life of me find a shade even close to the Chanel goss I had! Plus, the Intense Butter Gloss is a bit too opaque for comparison honestly. They can almost pass for high shine lipsticks. So instead I picked up a NYX High Shine lip gloss from my local beauty supply store. I still had trouble finding an exact shade match but it was the closest I could get.
Then I went into CVS, browsed around the beauty aisle as usual, and came across a display of Revlon lip glosses. my eyes zeroed in on one in particular that looked like an exact match to my chanel rouge coco lip gloss! From the color to the packaging, it was nearly spot on! I also heard previous reviews about these revlon glosses in particular and decided to compare it to the Chanel gloss. I didn't get it the day I saw it, admittedly because it wasn't on sale ( I NEVER buy drugstore makeup at full price. What's the point with all the sales, deals, and coupons drugstores always have going on? I've noticed sometimes depending on the area of the pharmacy some have way more sales than others, but that's another topic I may cover in a post later.)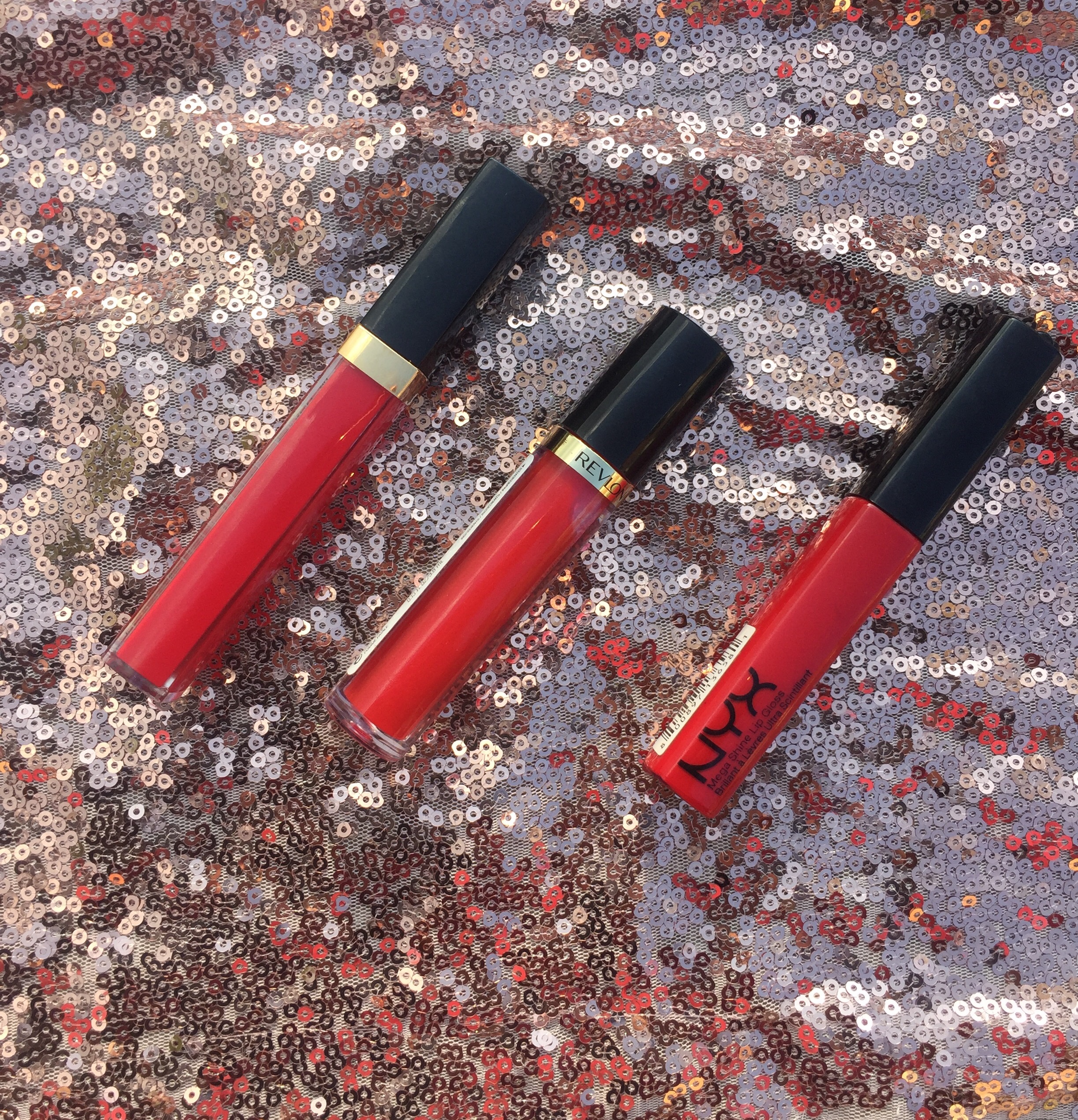 The Competition Is On!
Now it's time to go over each glosses' strengths and weaknesses, as well as show you pictures of how each one looks.
Chanel Rouge Coco Gloss
When I apply the Chanel Rouge Coco gloss, it glides on effortlessly. My lips are pretty full so I do need to dip back in to really cover my lips in it. It feels much more like a moisturizing balm. The color literally makes my lips look so juicy and plump and I love the shine!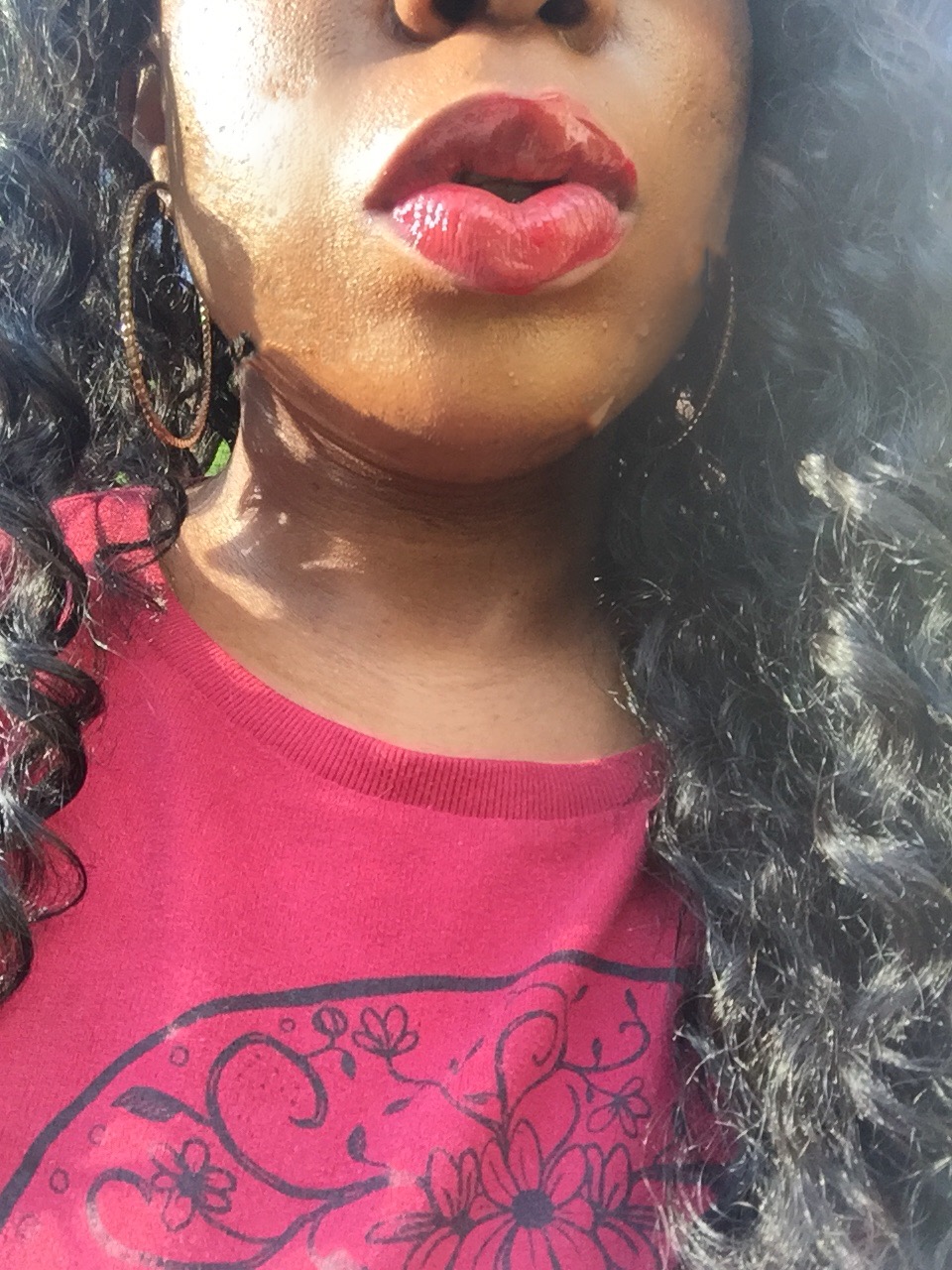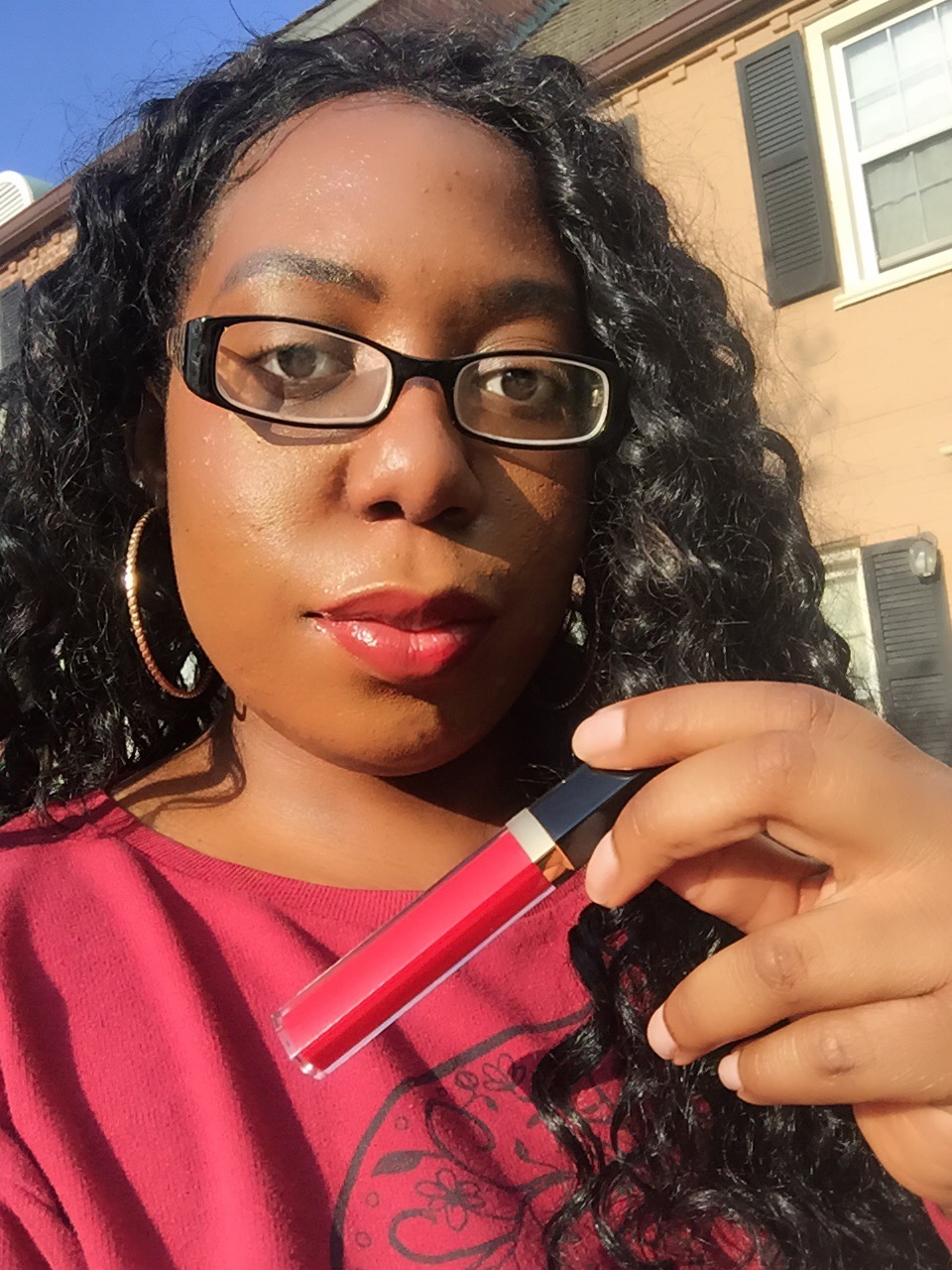 There's a tad bit of stickiness but it's not uncomfortable. It wears for a long time and it doesn't do that gross bunching or clumping at the edges of the lips or when you happen to stick them together.
Bonus: no yucky chemical taste or smell.
NYX High Shine Lip Gloss
This gloss was less easy to apply than the Chanel one. The applicator was a bit harder and didn't glide the product on as effortlessly. I had to dip the applicator in about three times to cover my full lips. It's doesn't feel as moisturizing and a bit more sticky, but the color payoff was phenomenal! The red shined bright and made my lips look amazing.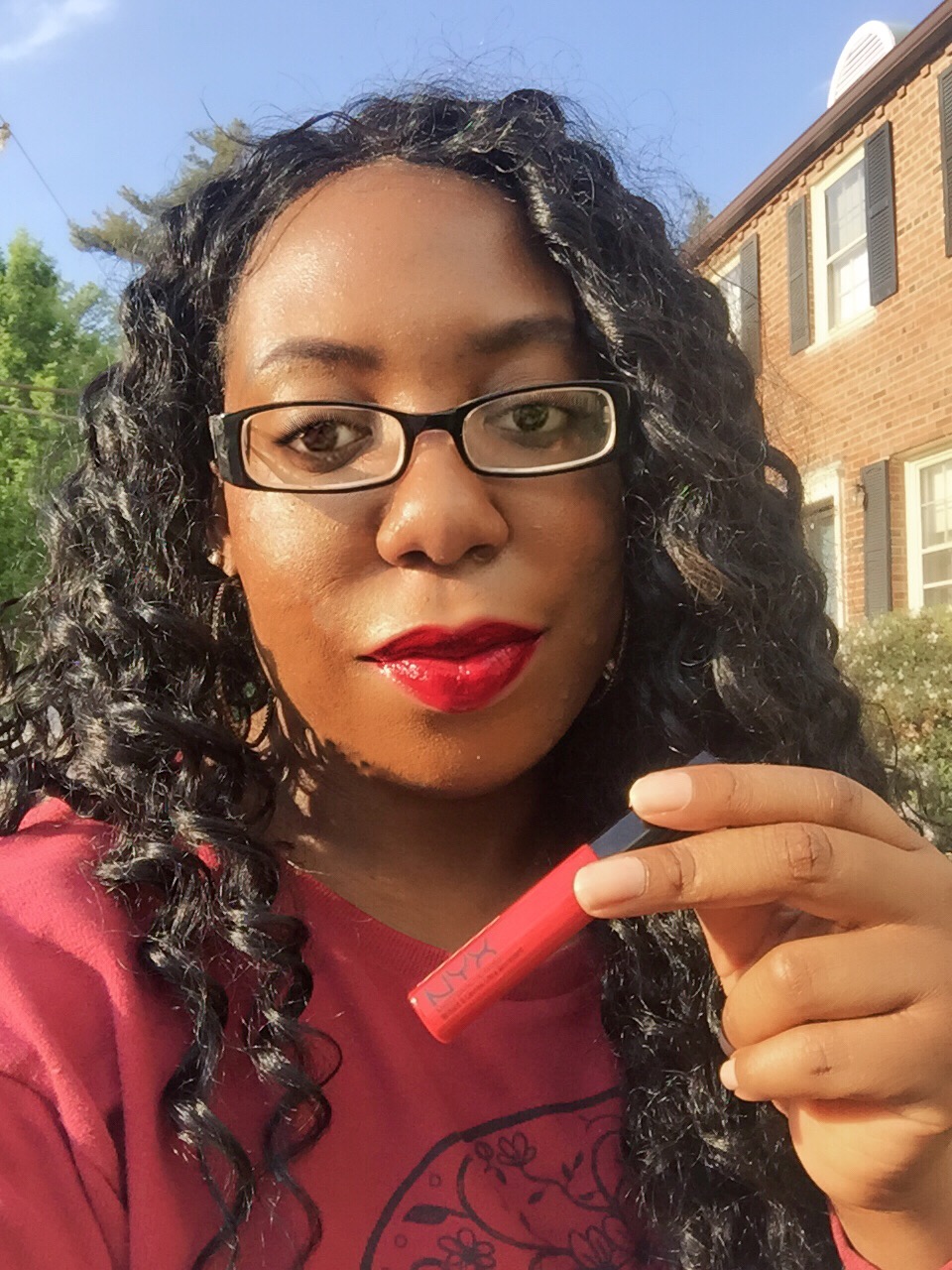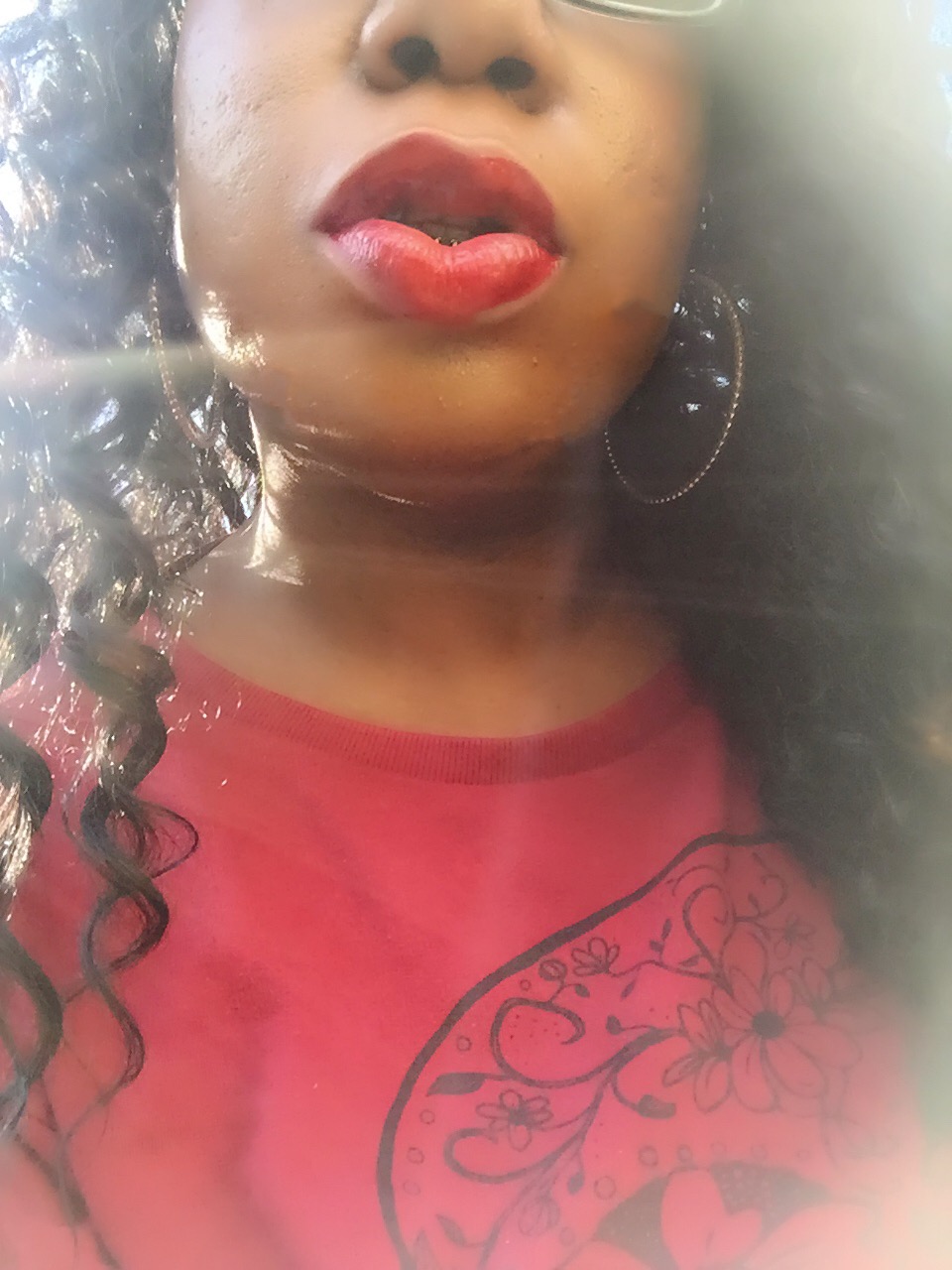 I also enjoyed its delicious cherry candy scent! Longevity wasn't as long, and it wore off completely in certain places after just drinking, through a straw at that! Overall, I still intend to get good use out of this because it is a very pretty gloss and also doesn't do that disgusting sticking and bunching thing!
Oh yeah, and this one is only $5! Unbeatable!
Revlon Super Lustrous Lip Gloss
This gloss has a very sheer coverage. It gave my lips a "I just finished a cherry popsicle" look. Although it gives my lips a flattering and sexy shine, it was disappointing that the color payoff didn't live up to my expectations. I expected my lips to look a lot more like the color inside the tube, not like I swiped on a cheap tinted balm. It was a bit difficult to apply as the applicator doesn't pick up too much product in the first swipe, and it takes a while for me to completely cover my lips with the gloss.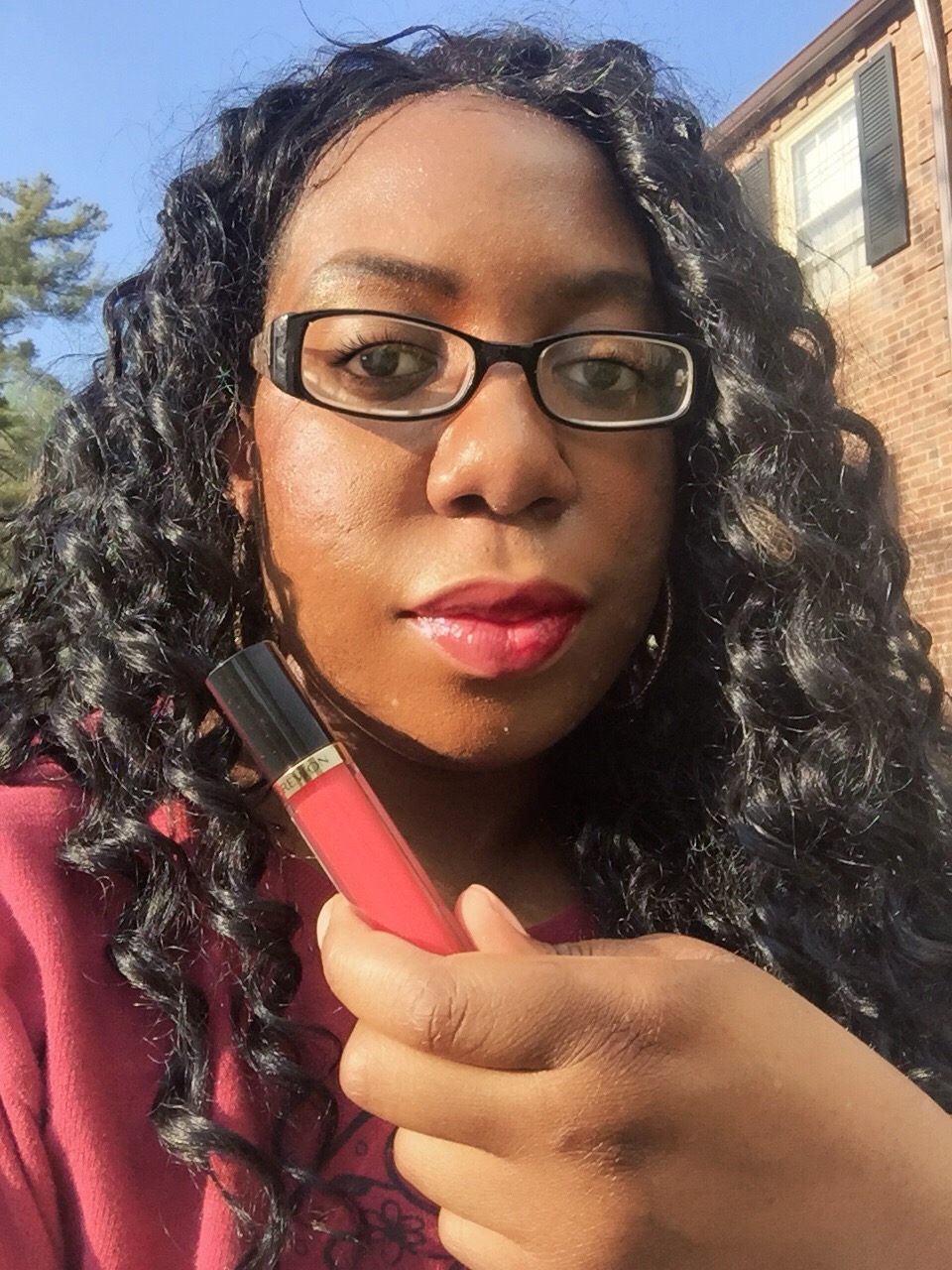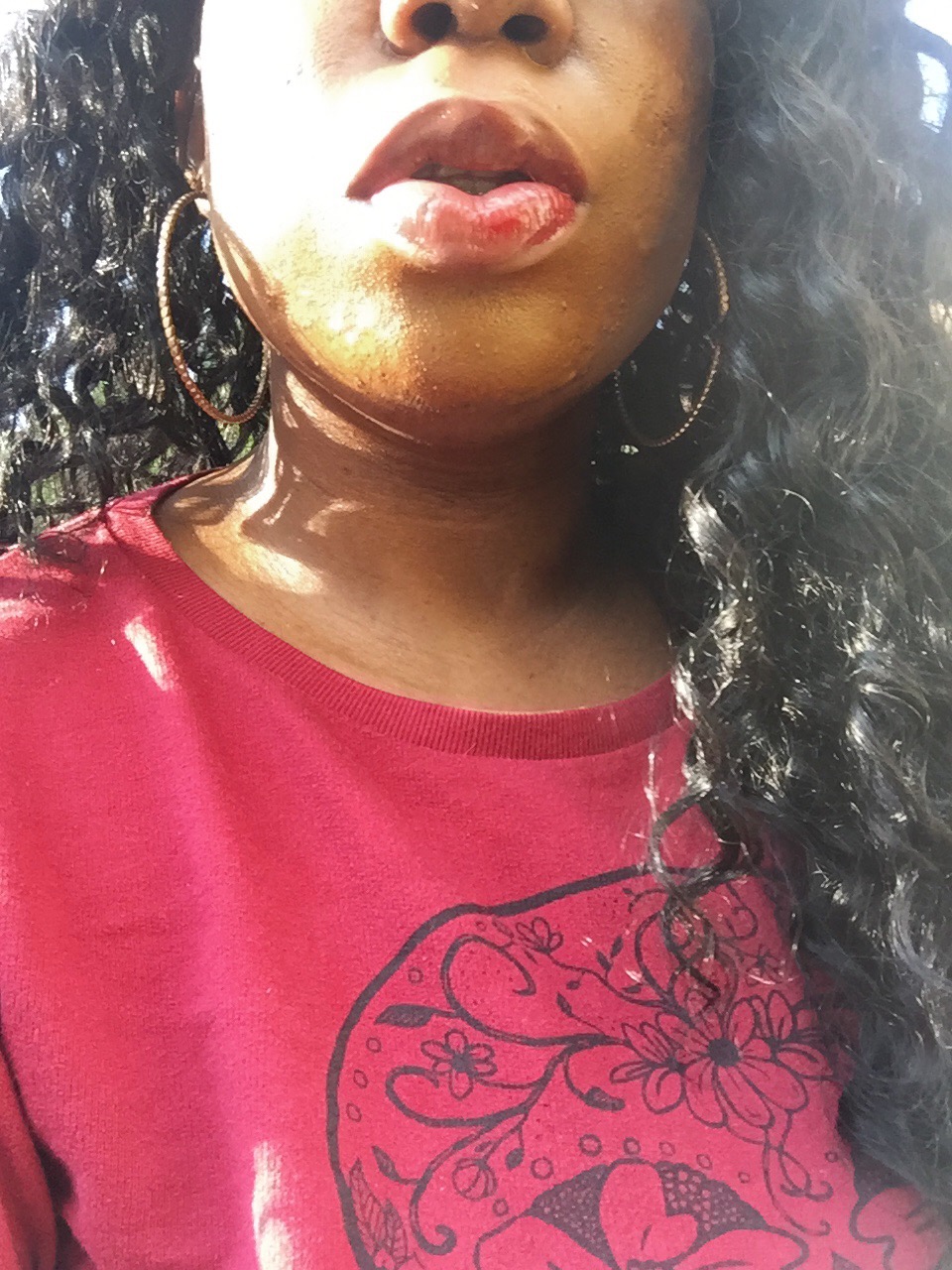 And then I noticed that it was quite sticky, which is a major pet peeve of mine. I thought I could get past it as the day went on, but nope, I couldn't. it feels a bit heavy on my lips, like I'm really wearing a lip gloss. I don't really like that feeling, and prefer a smoother, lighter texture. At least it didn't do that really gross bunching at the corners of the lips thing that I despise so much. If you like a sheer lip gloss with a subtle hint of color, you may enjoy these. I will say that this truly doesn't live up to its "non-sticky" claim.
This gloss retails for about $9.49, but I found it as an add on item on Amazon for $5 and some change.
Let's Compare and Contrast
Now that I've tried each gloss for a few days I can finally do some fair comparisons. We'll go over each one's pros and cons.
Chanel Rouge Coco Gloss Pros:
Formula
Texture
Color range
Longevity
Smooth application
Moisturizing
Chanel Rouge Coco Gloss Cons:
Price $$$
NYX High Shine Lip Gloss Pros:
Price $$$
Color payoff
Color range
Alluring Scent
NYX High Shine Lip Gloss Cons:
Sticky
Rough applicator
Not so smooth application
Wears off easy
Revlon Super Lustrous Lip Gloss Pros:
Color Range
Price $$$
Shine/sheen
Sheer coverage, but flattering color
Revlon Super Lustrous Lip Gloss Cons:
Sticky af
Takes two to three tries for even coating
Heavy texture
Very little color payoff
Not so smooth application
Awkward dough foot applicator (IMO)
Although the price may seem fair, it costs a bit more than I believe it's really worth
Final Verdict
Based on my experience, the Chanel Rouge Coco gloss is the absolute winner! It's absolutely nothing like any other gloss I've tried and I'm delighted every time I use it! I'm so, so happy with my purchase, although I wish it cost $10 less than it does right now!
It feels so smooth and silky on my lips. Although I'm fascinated with a bunch of lip products, I'm very particular and very picky about which ones I wish to permanently add to my collection. The Chanel Rouge Coco gloss is a luxurious experience for me in terms of its formula and performance. It is THE most comfortable and moisturizing lip gloss that I own currently, and it's really shown me that sometimes higher end makeup truly is worth the splurge.
I'll be certainly repurchasing the Chanel Rouge Coco gloss! There's many more colors I want to get!
I'll continue to use the NYX High Shine lip gloss I have, although I'm still on the fence as to whether I'll ever buy it again. I don't believe I'll ever rebuy the Revlon gloss. it really turned out to be a disappointment.  Being the bargain hunter I am (how ironic is that? A bargain hunter with expensive taste smh), I'll find a way to get it on sale. Oh it'll happen, you just watch! But if I don't before my birthday, which is in a few short weeks. I'll just have to splurge and treat myself! You only live once right?
Would you try the new Chanel Rouge Coco gloss? Do you think it's worth the price, or would you rather just stick to a drugstore competitor?
Make sure you subscribe on your way out and share this post if you ❤️ it!