Best Winter Skin Care Routine for Dry Skin
This post may contain affiliate links. This means that I may earn commissions from the companies mentioned in this post. As an Amazon Associate I earn commissions from qualifying purchases made through Amazon links included in some posts.
What is the absolute best winter skin care routine to follow? Mine of course!
Honestly, this question comes up a lot for people during this season. They haven't the first clue where to start or what to keep or change up. If you're one of those people, I'm here to help.
I've broken down the exact steps I do for both my face and body during the cold winter months. If you've got dry skin during the winter, or suffer with chronic skin conditions like eczema or psoriasis, these tips just may be a saving grace for you!
Face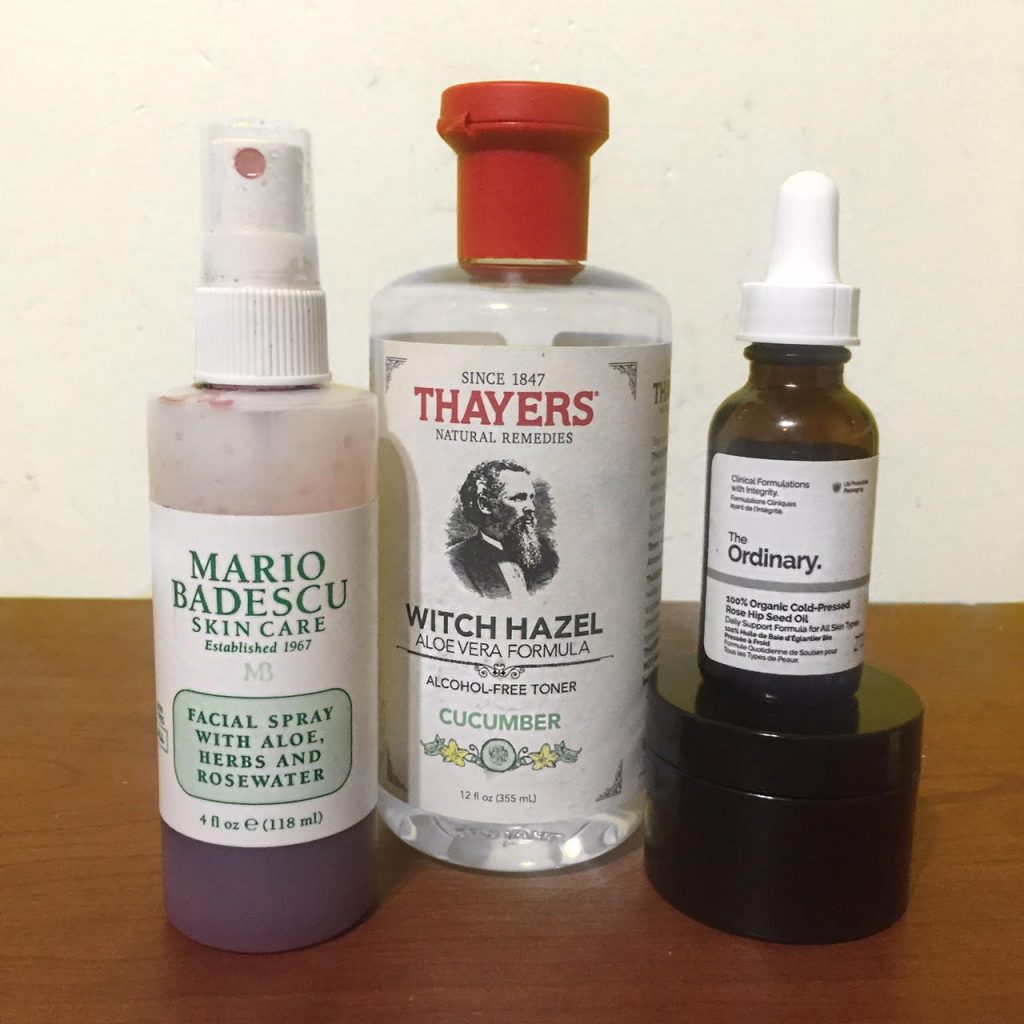 Always keep your skin protected from the un. it doesn't matter if it's cold, cloudy, rainy, or snowy. Your skin still needs sunscreen, especially your face. Make sure you're applying sunscreen every time you're about to leave the house, no matter the house. This is especially important for those who have post inflammatory hyperpigmentation, or issues with sun spots/dark spots. The sun's UV rays can cause further damage and worsen your condition.
Despite the season, using any serum that helps with any skin concerns/issues you may have is essential. This could be anti-aging, collagen reproduction, acne clearing, fading dark marks, moisturizing, or any other skin benefits you'd like. For hydration and glow I'm a huge fan of the Body Shop Drops of Youth serum. This serum is great for any skin type. Since I have post inflammatory hyperpigmentation as a result of severe acne, a vitamin C serum is essential. It helps fade dark marks, even and brighten skin tone, and aid in the reproduction of collagen by encouraging rapid cell turnover for healthy skin renewal. The Mario Badescu vitamin C serum has been my go to lately. I'm also looking into purchasing the Kiehl's dark spot corrective serum soon. The Murad one is on my radar too.
For both morning and night, I wash my face with a cleanser that's not stripping or harsh, like the Lancome Cream to foam cleanser, followed by witch hazel toner, rosewater, and a moisturizer I make myself (coming soon!)
Body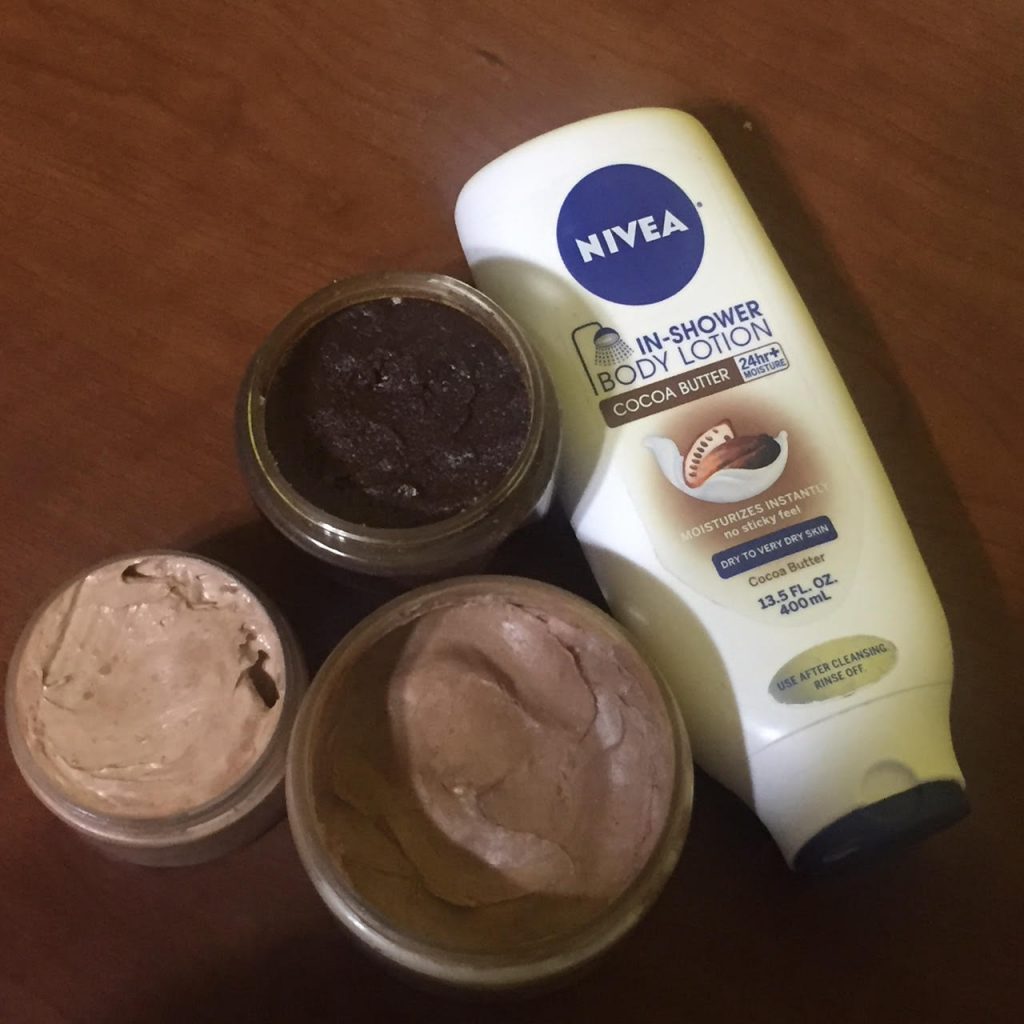 Ok, CLEARLY I have an unhealthy obsession with chocolate…
Anyway, it is super important that I'm consistent about my winter skin care routine for my body. I have extra dry skin on my body, and my scalp is dry too. How ironic: you could grease a skillet with my face, but everywhere else is the Sahara Desert, SMH.
I have my shower routine down to a science: wash with a moisturizing soap or shower cream, follow with a sugar scrub or in shower lotion, and finish off with body butter. If your skin is very dry, I highly recommend this order.
I try to stay away from most shower gels because they contain some really harsh ingredients that dry my skin out. It's first ingredient is also water, so water is what makes up the majority of its ingredients. While this is perfectly fine for your face, the skin on your body is a much thicker layer, and water/gel based products during the wintertime aren't the best at long lasting hydration for the skin. So, your skin is likely to dry out faster, especially if you don't follow up with an oil or cream based product to seal in the moisture you get from that water.
Plus, a lot of the ingredients in traditional body washes and such aren't the best for you. Lots of cheaper brands love to fill their products with fillers, additives and harsh or irritating ingredients and allergens. I trust very few commercial skin care brands, and ONE soap bar. That's right: ONE.
If your skin is dry, it's a great idea to Exfoliate with a good scrub twice a week, or as needed. Previously I exfoliated in the shower with my homemade sugar scrub 2-3 times per week. Then I incorporated an in shower body lotion, and it's been a game changer. Now I only need to scrub once a week, if that.
Following up with one of my homemade whipped body butter creams (Chocolate Peppermint is a big favorite among my friends and family) after the shower leaves my skin incredibly soft, smooth, hydrated and silky for DAYZZZZ! Yes, I said days!
I use a ton of super moisturising and conditioning ingredients like shea butter, cocoa butter, coconut oil, olive oil, and grapeseed oil in my body butters. The effect lasts for so long because of how hydrating and moisturizing each product is for the skin. It almost makes me mad that I have no one to cuddle with at the moment, because I swear they'd never want to let me go based off how baby soft my skin is. Oh well, I'll cuddle myself for now.
Curious about any of the products I mentioned? Grab a few below!
That wraps up my recommended winter skin care routine for people with dry skin. If you include these tips into your routine, I guarantee that you'll begin to see positive changes in your skin's appearance, touch, and overall health very soon.
Check out my Etsy shop to get your own exfoliating sugar scrub and whipped body butter to add to your skin care/body care routine!
Stick around: subscribe to my bloglovin, check out my Instagram, friend me on Facebook, or follow me on Pinterest! I don't bite (unless you're into that sorta thing 😉