12 Days of Christmas Gift Guides: Fitness Gift Guide for Women
This post may contain affiliate links. This means that I may earn commissions from the companies mentioned in this post. As an Amazon Associate I earn commissions from qualifying purchases made through Amazon links included in some posts.
Optimal health is the key to overall happiness and well being: when you feel good, you, well, feel good! An awesome side effect is that you'll look just as good as you feel. Keeping up a consistent fitness regimen is so important for overall health and well being. While some of us may be more dedicated than others, everyone has the opportunity to strive towards their best health and their best selves. In this Christmas gift guide, and Day 5 of the 12 Days of Christmas Gift Guides series, here's some of my best gift ideas for fitness enthusiasts! Specifically, these will be my top picks for  christmas gifts  for women in fitness.
Oh and remember: if you're not already a member, sign up for Ebates today so you can cash in on all the holiday shopping you'll be doing all month! I shared this guide on how to save the most money on your holiday shopping so you can get the best deals and earn some cash back too!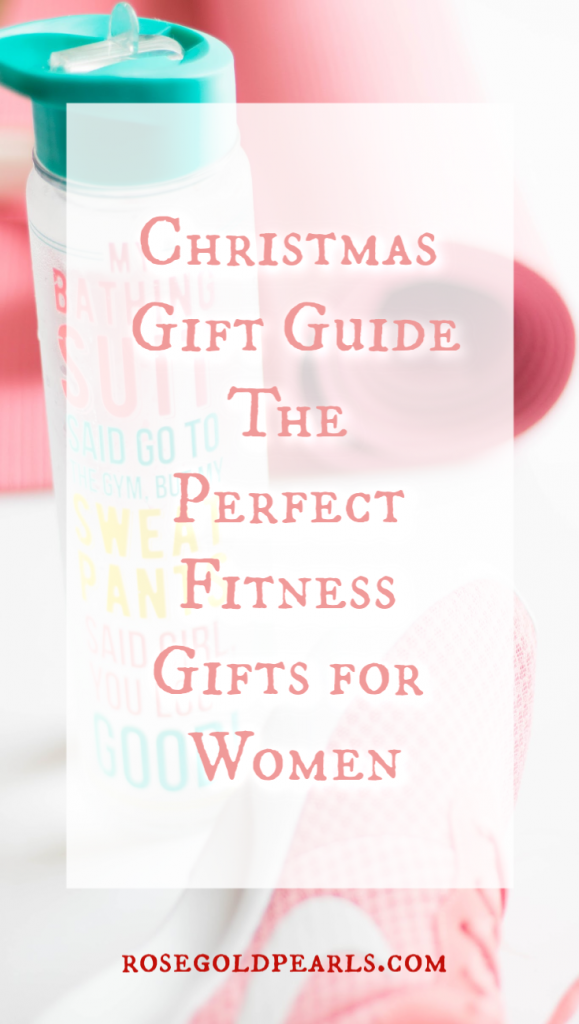 What fitness enthusiast doesn't have protein powder? As awesome of an addition to our healthy lifestyles as it makes, it can add up to be pretty expensive. So a nice big jug of good quality protein powder is a perfect Christmas gift idea for fitness enthusiasts! I LOVE this brand because it's 100% plant based and free of dairy or any other animal product. While I'm not a vegan, I enjoy plant based products and incorporate them into my diet regularly. It's great for people who live a plant based lifestyle or are sensitive to the ingredients in traditional protein powders like whey or soy protein isolate. Vega is another great brand, but it can get very expensive real quick, so this is a great alternative for half price.
A workout is not good without a good set of earphones . These are a great option for fitness enthusiasts who value a great set of earphones that are reliable and work the best. Jam out to your favorite beats, or listen to motivational books and podcasts.
One thing that I like to do is listen to my favorite podcasts on iTunes or one of my personal development books of the week on Audible. Audible is amazing if you prefer listening to audio books. Sometimes, you may not have much time to dedicate reading an entire book (which I hope you work at) but listening to an audio book is a great way to gain the knowledge you seek on the go, wherever you're at. So during your next sweat sesh, you can get some powerful motivation from a good book, or perhaps TWO good books that you choose during your free trial when you sign up for Audible! You can try Audible for free for 30 days and make sure to sign up with my link so that you get two FREE audio books instead of just the one you'd get normally.
Mario Badescu Facial Spray with Rosewater & Facial Spray with Green Tea Duo
Your face is likely to be a bit red or inflammed right after a workout. That's nothing to be alarmed about: blood is pumping aand the salt from our sweat plays a factor. After cleansing or rinsing your face with water, spritz your face with soothing sprays like these from Mario Badescu to alleviate that redness and inflammation, as well as give your skin a healthy glow!
FOREO LUNA play plus: Portable Facial Cleansing Brush, Pearl Pink
You've got to get that sweat and salt of your face somehow, so this portable facial cleanser will get the job done! The Foreo facial cleansing brush cleanses your face gently and get off all the grime and impurities that your skin has secreted after a workout. Your face will feel cleansed and refreshed, and have a new glow. When you're finished with your gym workout, whip out this baby and you can cleanse and refresh your skin within 60 seconds flat!