Must Have Products For A Flawless Natural Makeup Look
This post may contain affiliate links. This means that I may earn commissions from the companies mentioned in this post. As an Amazon Associate I earn commissions from qualifying purchases made through Amazon links included in some posts.
I'm sure most of us prefer to have a  light, fresh and natural makeup look. Who wants to cake face the makeup on and go through 1,000 different steps every single day?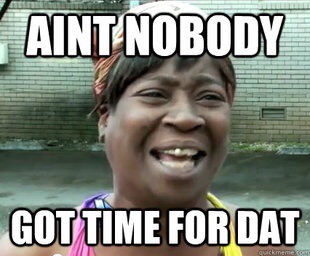 That's right!
So, what gems do I rely on to give me that natural makeup look? Although we may not want to really pack it on, we can't let it slide off either! Here's an in-depth list of products I rely on all year round, that help me achieve a flawless natural makeup look.
Sunscreen
You can't (and should not dare) leave the house without applying sunscreen. It is a MUST. I'm telling you now, if you've been missing out on applying sunscreen, then you need to start quick. Otherwise, your skin will not be happy and you'll start to see it.
Since I am using strong prescription medications for my hormonal cystic acne, and because I have acne scarring, my skin is very sensitive and can be easily damaged by the sun. The trouble was many sunscreens were too greasy or broke me out. This one from La Rosche Posay is great to wear underneath makeup. It makes the skin ultra matte, but the drawback is that it leaves an unsightly white cast on my dark skin! So, I use it almost like a makeup primer. Surprisingly it works very well this way. This is best for those with oily skin.
This is very similar to the above sunscreen, however this comes in a larger bottle (3 oz compared to 1.7), has higher SPF, and costs less. I subscribe to this product on Amazon. It's a very affordable option and works well. It feels good on the skin, non-greasy and has a mattifying effect. It doesn't leave a terrible white cast and I can wear it with or without makeup.
You do know you shouldn't just be applying sunscreen once a day, right? That's not very good news when you're a makeup wearer, at least not until now. Behold, a sunscreen in powder form that won't smear your makeup and ruin everything! It comes with a handy brush you twist up and emits the powder to apply on your face. Protect your face from the sun, and keep your face matte at the same time. It doesn't get any more convenient than this.
Foundation/Concealer
B.B. creams and tinted moisturizers are very popular around the summer time because they're lightweight and give a natural glow to the skin. They're perfect for low maintenance looks, for days you're in a rush or you just want to keep it light and fresh. This tinted moisturizer has 12 shades now. Mine is 10 Sienna and it matches my skin perfectly. I either rub it in with my fingers or pat it in with a beauty sponge. It gives a beautiful healthy glow and radiance to the skin and is a buildable sheer to medium coverage, and a must have for flawless natural makeup.
I recommend this for dry and combo skin types. If you're more on the oily side make sure to set with a powder.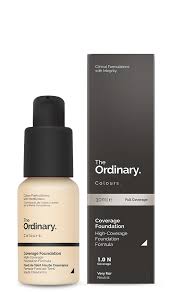 I completely understand why this foundation has been back ordered on every single site it's sold on. Literally thousands of people were placed on wait lists to receive this foundation! When I finally got this in the mail I immediately ran to try it on. Thank God for Wayne Goss' YouTube review and list of shade references otherwise I wouldn't have had any idea what my perfect shade would be, considering there's so many.
I got 3.2N Deep which according to him is equivalent to MAC NC50. He was indeed correct, and it is a perfect match! I'm in love with the lightweight feel and its full coverage. It also gives my skin a radiance, almost like a subtle all over highlight. It's similar to what applying MAC Strobe cream would do to your face.
It also lasts for hours, doesn't get greasy or transfer everywhere, and makes the skin look so healthy, luminous and beautiful. It is an absolute dream, and it's amazing for natural makeup and full glam looks.
We all know this as a classic. I completely understand its hype because of its full coverage, wide shade range and longevity. I mostly use the shade NC50 as a foundation because of the impressive coverage. It's not heavy like many full coverage foundations and doesn't break my skin out. I have also used as an under-eye concealer and it is wonderful. It doesn't crease, it conceals my dark circles and it gives this flawless and pore-less finish.
This makes a great choice for natural makeup looks because it provides excellent coverage without making the skin appear unreal or really made up.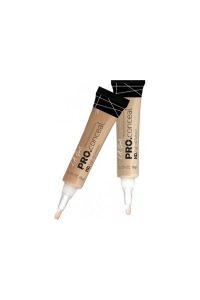 Here's another cult favorite. It's probably the best inexpensive concealer available. (If    you can recommend a concealer that's full coverage, comes in 22 shades, doesn't crease, and makes your under eyes look flawless, all for under $5, PLEASE tell us in the comments so we can snatch it up!)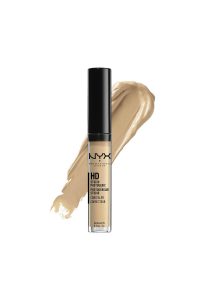 I picked this up from the drugstore because I had run out of concealer. I'm glad I did because it is very nice. It's not the most full coverage concealer, which is what makes it really good for those more "no makeup, makeup" days. It can also be used to conceal little blemishes, or all over the face as a foundation. It works well under my eyes and doesn't crease.
Want some more awesome drugstore concealer recommendations? Here's a post all about the best of the best drugstore concealers here.
Blush/Highlight/ Illuminator
This is a game changer, at least for me. I'm a much bigger fan of liquid highlighters because they blend into the skin better. I prefer a natural glowy and radiant look than a stripe of glitter on my cheeks. Apply this before foundations or mix it into your foundation.
I wouldn't recommend applying this on top of makeup. It's meant to blend into your skin and create that glow from within look. It's perfect for the summer trends of dewy, glowy makeup. I have the shade silver lite, and plan to purchase another full-sized bottle in the colors gold lite and red lite. this is a must have if you're looking for that flawless natural makeup finish.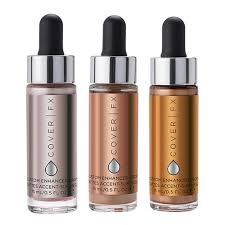 When I saw swatches and reviews online, I knew I needed to have it. Actually, it wasn't until I grabbed a few samples from Sephora that I realized I truly needed this in my life. It is quite expensive, double the price of the MAC Strobe cream, but you've got to admit they are GORGEOUS! It's just something you have to see in person to believe.
There's a number of flattering shades for every skin tone. My favorite is the sun-kissed and rose gold shades. They're perfect for mixing into your foundation or applying on top with a beauty blender. I don't advise you apply this with a brush. Just… just don't.
A cream blush is probably your best option if you're going for natural makeup. I find that cream blush blends into my skin beautifully, creating that natural flush to my cheeks that adds a youthful glow. The NYX cream blushes stay all day, despite my oily skin, and just look beautiful. I love them so much, and they're perfect for days I'm going for very light, natural makeup that's fresh and clean.
I got this product in the Spring Beautycon box and fell in love with it. When I first tried it the luminosity of this "blush" took me aback. I realized that this would work best for me as a blush/highlight, so that's how I use it. I have the shade "Peach Sheen" that's a peachy/pink tone with some gold shimmer. I apply it right on the high points of my cheeks and it blends beautifully. It adds a glow and radiance to my skin and flatters my dark skin tone amazingly. It's actually my favorite powder highlight that I own at the moment.
Here's yet another product that I received in the Spring Beautycon box (they've got to be my favorite subscription box service ever). This is certainly a must have for that everyday flawless natural makeup look. It's become a staple in my routine. I alternate between this and the IBY blush. It's like a cream blush/highlight hybrid and it is beautiful on the skin. I have the shade "Rose Petal Pop". It's like a bright pink with a subtle gold reflection. This is absolutely perfect for the summer time.
Setting Powders
This powder comes in an impressive selection of shades and it works amazing for medium to deep dark skin tones in my opinion. As it promises, there's no flashback, no ashy appearance, and it's very light. The pressed form makes it easier to touch up makeup throughout the day when needed, and it's great to carry with you on the go. No mess and no stress. It doesn't get cakey on your face, even if you choose to do the baking technique.
Finishing Sprays
Yet another cult favorite, the Mac Fix+ has got your back especially through the hot summer heat. It feels light, refreshing, and cool on the skin. It doesn't exactly add longevity to your makeup, but it definitely works to blend everything together nicely and cut down on any overzealous action you've had with any powder. It's also used to foil shadows, intensify your powder highlight, or to refresh your makeup throughout the day. This is suitable for all skin types.
This is certainly worthy of all the hype it gets. A little on the expensive side, yes, but worth every single penny, I swear! I do have to admit though, that when I saw these on sale for >$20 at Nordstrom Rack, I snatched it up very quickly. Gotta save money whenever you can!
This setting spray changed the game for me, and it has become a holy grail. I don't know what it is, but it gives my skin this look that no other setting spray I've tried has. It truly works like no other. My makeup looks flawless after setting with this spray. It's true to the name as well: it helps my makeup last all night, and all day.
This spray adds a glowy look to my skin and smells like oranges! I love the scent and refreshment luminosity it gives me. It's one of my favorite summer time facial mists. It reminds me of a luxurious spa. If you have drier skin, this will be your best friend.
Add a neutral toned eyeshadow look, or use one color all over the lid. I find that a subtle peach, brown, or golden toned shadow looks natural and flatters all skin tones. Cream pot shadows, like the color tattoos from Maybelline or the smudge pots from Elf, will be a life saver for days you want to keep it simple or if you're in a hurry. Finish the look off with a nude lipstick, gloss, or balm and you've got a flawless natural makeup look for your day!
My favorite lip products for a natural makeup look are lip balms like the Aquaphor lip repair and Rosebud Salve in a Tube. The elf Lip balm adds a beautiful tint that offers a "your lips but SOOO much better!" look for an unbeatable price tag! It feels amazing too. My favorite nude lipsticks/glosses include the NYX Intense Butter Gloss in peanut brittle and tres leches.
Like any of these options? Grab a couple or sumthin'!
But before you do, make sure you save some money by purchasing through Ebates to get some serious cash back! New members get a free $10 after your first $25 bonus!
(Think about it: 10% cash back on a $25 purchase = $2.50. An extra $12.50 just for shopping? Oh yeah!)
Q&A Time!
Let's have some fun chatting in the comments. I'd love for you to answer these questions to get the discussion going:
What are your go-to products for those natural makeup days?
What's a product from this list that you've never tried before/may be interested in trying?
Which look do you usually go for: Matte or dewy makeup, and why?