The Best Facial Mists and Makeup Setting Sprays for All Skin Types
This post may contain affiliate links. This means that I may earn commissions from the companies mentioned in this post. As an Amazon Associate I earn commissions from qualifying purchases made through Amazon links included in some posts.
Searching for the best facial mist and setting spray for your skin type is certainly a smart move. If you've found your holy grail, I congratulate you, because we all know how hard that is to do! If you're still in search for a great facial mist and setting spray for your skin type, then you've clicked on the right blog post!
I've got oily skin all the way, although I'm beginning to think it's more on the combo/oily side right now. It does this weird thing around the change of the seasons, especially in summer and winter. So when I wear makeup, I definitely need a good setting spray with all the powder I have to use. Setting spray really does help make the look come together and makes the face look so much better. Plus, who doesn't love a refreshing mist to cool their skin off during a hot day?
Whether you have dry skin, oily skin, combo skin, normal skin, sensitive skin, even acne prone skin, I've got the perfect recommendations for you.
At first the price tag put me off, although I was still curious since it was used by almost every single beauty blogger and makeup enthusiast. I got the travel sized version first and was pleasantly surprised at the results. I got the opportunity to purchase the full-sized version on sale from Macy's for less than $20. I now completely depend on this makeup setting spray because of how excellent it works for my skin! It made my skin with makeup look like something I had never seen before, and that's no exaggeration.
I live for this stuff and I always restock during a sale at my favorite department store. Nordstrom Rack also has them now for a third off the original price! I've seen people of all skin types use this, but if you have oily skin, this will certainly keep your makeup going strong all night as it promises.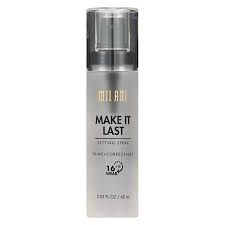 Milani kills it in drugstore beauty, from their packaging to their products. They deserve their own boutique for sure. The Milani blushes and lipsticks are my favorites from their line. Now I can include this facial mist and setting spray to the mix. It has a similar mist to the Urban Decay in my opinion. It feels cool and refreshing on the skin and has helped increase wear time considerably. It doesn't leave any weird droplets and has an airy mist that feels almost luxurious. I highly recommend this as a budget friendly option for those with any skin type.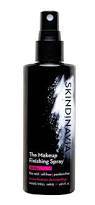 If you need your makeup to stay on like Spackle for the day, this is the setting spray for you! Originally formulated for brides and bridesmaids, the results of this was so impressive that it sold out even to those who've never been married in their life (lol)!  It promises to keep color alive for up to 16 hours. It also claims to keep makeup from melting or creasing and be bulletproof against sweat, tears, and kisses. Basically if you absolutely NEED your makeup to last literally all day and night, this won't fail you.
This is ideal for all skin types.
Of course we had to mention the cult classic. While this really isn't described as an actual setting spray by most of the people who have used this, it certainly makes an awesome satisfying and refreshing facial mist. It also helps to really allow the makeup to blend with the skin and bring the look altogether. It may not promise crazy lasting power, but it still has many uses that make the purchase so worth it. You can set your makeup, foil your eye shadows, intensify your highlight, diminish an unfavorably powdery cake- face, refresh your makeup throughout the day, you name it!
MAC also released wonderful "flavored" versions of this in Lavender, Coconut, and Rose.
This great drugstore option is a little on the pricey side for a drugstore pick. However I believe it can compete with the higher end setting sprays. Its spray is quite… wet? It doesn't have that fine mist, but rather like you're spraying yourself with a water bottle. It's not so bad to the point that you feel as if you've been caught in the rain. Just saying that you don't need to spritz yourself with this stuff too much. Three or four sprays will suffice.
As far as makeup longevity goes, it promises 12+ hours of wear. I'd say for my oily skin I can get 8-10 hours of wear, which is good for me. This is suitable for all skin types, however if you're not a fan of alcohol this may not be for you.
I ordered this from Ulta during a sale and am so happy I did. When I first tried it I fell in love with the scent. It smells like freshly ripened oranges! It reminds me of a luxurious spa, and using it makes me feel pretty fancy.
Since I have oily skin, I don't rely on this to necessarily increase the longevity of my makeup. Therefore I reserve this for when I have a more natural makeup look and haven't really packed it all on that day. This is mainly for if I just want to appear luminous and dewy, and have some extra hydration for my skin.
Speaking of natural makeup, I also have a list of my must haves for when I'm going for a natural, glowy skin, neutral nude, flawless makeup look. Check it out here.
I went to Macy's one day and got my face done at the beauty counter. The lovely lady who did my makeup showed me this product and used it to set my face. Going about my day I couldn't stop looking at myself in the mirror. I was convinced that it must had been the setting spray because my skin looked so radiant yet non-greasy. It also felt hydrated and supple.
The makeup stayed looking fresh for HOURS, and I knew I had a new favorite. This is a very underrated facial mist, literally; it's not even rated yet on Sephora. However, it has 70 loves, so someone besides me is aware of the greatness that is this facial mist and setting spray.
This contains electrolytes and caffeine to support skin's natural radiance. That explains how I managed to look luminous without looking greasy and giving off an unflattering shine. Thank God I just won a gift card, and now I have just placed my order for this!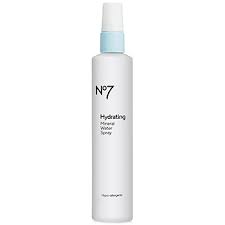 No7 is a drugstore beauty brand originating from the UK and has made its way over to US stores like Target and Walgreens. They have an excellent line of affordable makeup and skin care. This particular product caught my eye because of its affordable price and I was on a huge setting spray kick at the time. I'm just so fascinated with facial mists and setting sprays!
Anyway, this hydrating mineral water spray is ideal to use for a refreshing and hydrating mist to use throughout the day. It's perfect for hot and humid days, or if you just like spraying yourself with mists from time to time. Who doesn't like to give themselves a refreshing spritz throughout the day?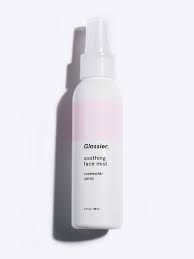 Glossier has become one of my favorite skin care brands because of their products' simplicity and natural ingredients. One reason I was drawn to this spray was because it contains rosewater. Rosewater is one of the best and universally beneficial ingredients to use on your skin. It's soothing and hydrating for the skin and makes an awesome moisturizer. It's also cruelty-free! All of Glossier's products are cruelty free by the way.
I recommend using this after washing your face, after exfoliation, after a clay mask, or as a toner before your skin care routine. I also rosewater spray before applying my makeup primer as a small little boost of hydration.
This is like the boogie version of the Mario Badescu "rosewater", only that this is actual rosewater! This has been all in the magazines and raved about all over the blogs and YouTube. This is a pretty high-end rosewater with a high-end price, but apparently it is so worth it. Although I've never bought this, I made sure to get a few spritz from the testers at Sephora! The smell is so sweet and light. The mist sprays like a dream and feels amazing on the skin.
The coconut and aloe leaf water found in this mist moisturizes, tones, softens and hydrates for all skin types. This is also supposed to help reduce redness and blemishes when used on clean skin. This contains all natural ingredients without fillers, sulfates, parabens or the like! You get what you pay for here!
All of Herbivore Botanicals products are 100% made of natural ingredients, cruelty free and vegan!
I think this product having 50K loves on Sephora says it all. Let's include the fact that this is one of Lisa Eldriges' personal favorites! This is awesome to use both as a facial mist and setting spray for makeup. This solves issues of dryness, clogged, enlarged pores, and dullness or uneven skin tone. Use this as part of your skin care routine, to set and refresh makeup, or even to soothe skin as an aftershave for men! It smells like mint and feels very cool and refreshing (that seems to be the trend for these facial mists and setting sprays, rightfully so!)
This is described on Sephora as "A hydrating, refreshing setting mist that perfects and finishes makeup, energizes skin, and boosts radiance for an instant, sexy Hollywood glow."
Sounds pretty good to me! With Glam Glow being one of the most highly coveted skin care brands out there, I'd expect nothing short of excellence from this setting spray. This contains a mixture of green tea, white tea, and red tea, with charged waters and caffeine. It promises to hydrate, smooth, and energize the skin. I have been  very curious to try this out! I'll be placing an order soon. This has 10K loves and 4 out of 5 stars on Sephora, so I have very high hopes!
Like any of these choices? Grab a few or sumthin'!
Have you spotted a few of your favorites in this list? What are some of your favorite facial mists and setting sprays that haven't been included in this list? Let us know in the comments so we can try them out!
Make sure to subscribe on your way out and share this post if you love it!